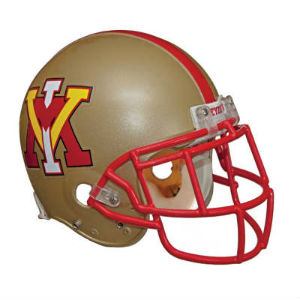 VMI football head coach Scott Wachenheim today announced the addition of 13 signees to the 2018 recruiting class.
"VMI Football is proud to add thirteen future cadet-athletes, hailing from six different states, to the six young men who signed with the Keydets on December 20, 2017," said Wachenheim.
"The class has been tagged as #H1storyM8kers for their desire to not just simply be a part of history, but to make it! We Are VMI."
The info on February signees below includes name, position, height, weight, hometown and high school in parentheses.
Further capsule information on each signee follows.
2018 VMI February Signees
Korey Bridy, RB, 6-0, 185, Chesterfield, Va. (Monacan)
Ethan Caselberry, OLB, 6-4, 190, Sparkman, Ala. (Sparkman)
DJ Dennis, DB, 5-11, 180, Stafford, Va. (Colonial Forge)
Syour Fludd, QB, 6-1, 185, Richmond, Va. (Monacan)
Marshall Gill, OL/DL, 6-4, 275, West Point, Va. (West Point)
Jakob Herres, WR/TE, 6-4, 195, Easton, Pa. (Easton Area)
Michael Jackson, WR, 6-2, 170, Henrico, Va. (J.R Tucker)
Liam Kauthen, ILB, 6-1, 200, Fredericksburg, Va. (Colonial Forge)
Jalen Moore, OL, 6-3, 275, Axton, Va. (Tunstall Sr.)
Tim Smith, SAF, 6-3, 185, Fort Mill, S.C. (Nation Ford)
Jon Tobin, TE, 6-4, 210, Forest, Va. (Jefferson Forest)
Eric Weaver, DL, 6-3, 290, Fort Meade, Md. (Meade)
Khalil Woods, OLB, 6-4, 205, Linden, N.J. (Linden)