Virginia Tech and Duke each placed three players on the list of Atlantic Coast Conference Player of the Week honorees after their teams won important ACC games on Saturday.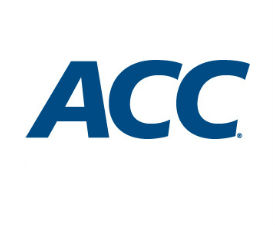 Virginia Tech quarterback logan thomas was named the ACC Offensive Back of the Week after leading the Hokies to a Coastal Division road win at 14th-ranked Miami.  Hokies center David Wang was named the ACC Offensive Lineman of the Week, and Joshua Stanford earned ACC Co-Receiver of the Week honors.
Duke redshirt freshman DeVon Edwards was named the ACC Rookie of the Week after returning two interceptions for touchdowns and returning a kickoff 100 yards for another score in a 38-20 win over NC State. The Blue Devils' Kenny Anunike was recognized as the ACC Defensive Lineman of the Week, and Kelby Brown as ACC Co-Linebacker of the Week.
Florida State's Kermit Whitfield, whose 97-yard kickoff return closed out the scoring in the third-ranked Seminoles' 59-3 win at Wake Forest that clinched a berth in the 2013 Dr Pepper ACC Championship Game, earned recognition as ACC Specialist of the Week. Other honorees include Miami's Allen Hurns as ACC Co-Receiver of the Week, Boston College's Steele Divitto as Co-ACC Linebacker of the Week and Pitt's Ray Vinopal as ACC Defensive Back of the Week.
OFFENSIVE BACK – Logan Thomas, Virginia Tech, Sr.-R, QB, 6-6, 260, Lynchburg, Va.
Thomas led the way as the Hokies went on the road and upset No. 14 Miami to get back into the thick of the Coastal Division chase. The redshirt senior connected on 25 of 31 passes (80.6 percent) with two touchdowns and no interceptions for 366 yards while running for 42 yards to give him 408 yards of total offense. Thomas' first touchdown throw set a school record for career scoring passes, and he became the first quarterback under veteran head coach Frank Beamer to have 300 or more yards passing in back-to-back games.
OFFENSIVE LINEMAN – David Wang, Virginia Tech, Jr.-R, C, 6-2, 291, Ashburn, Va.
Playing all 81 snaps, Wang had a big game for the Hokies up front in the win at Miami, helping pave the way for 549 yards of total offense (183 rushing; 366 passing). Wang graded out at 86 percent for the game and recorded a career-high 16 knockdowns in the conference road win.
CO-RECEIVER – Joshua Stanford, Virginia Tech, Fr.-R,  WR, 6-1, 189, Mississauga, Ontario
For the second game in a row, Stanford played a big role in the Hokies' offensive attack, this time in the important Coastal Division road win at No. 14 Miami. Stanford caught a career-high seven passes for 107 yards and a touchdown, a nifty 32-yarder that gave Tech a 28-14 lead in the second quarter.
CO-RECEIVER – Allen Hurns, Miami, Sr., WR, 6-3, 195, Miami, Fla.
Hurns caught four passes for a career-high 142 yards and a touchdown in Miami's 42-24 loss to Virginia Tech. Hurns' 84-yard TD reception was the longest reception of his career and helped key his third 100-yard receiving game of the season. He leads the Hurricanes in receptions (37), receiving yards (732) and receiving touchdowns (5) this season.
DEFENSIVE LINEMAN – Kenny Anunike, Duke Sr.-R, DE, 6-6, 260, Galena, Ohio
Anunike helped lead the Blue Devils to Saturday's 38-20 win over NC State with a career-high 11 tackles, including one for lost yardage. The tackle for loss came with NC State facing 1st-and-goal at the 5-yard line. Anunike stopped running back Shadrach Thornton for a 4-yard loss, and NC State was eventually forced to settle for a field goal attempt. Aunike helped force four NC State turnovers and limit the Wolfpack to 164 net yards rushing, 20 yards below its season average entering the game.
CO- LINEBACKER – Steele Divitto, Boston College, Sr., LB, 6-3, 238, Ridgefield, Conn.
Divitto recorded a game-high 18 tackles, including six solo tackles and 1.5 tackles for loss, in the Eagles' 48-34 win at New Mexico State.  Divitto's tackling total marked a season high and equaled his career best, which he achieved against Army in 2012.  Divitto ranks third among ACC leaders in average tackles per game with 8.9.
CO-LINEBACKER – Kelby Brown, Duke, Jr.-R, LB, 6-2, 230, Matthews, N.C.
Brown spearheaded the Blue Devils' win over NC State with 10 tackles, including two tackles for loss and a quarterback sack. With Duke up 7-0 in the second quarter and NC State in the red zone, Brown caused a Wolfpack fumble that was recovered by teammate Jeremy Cash. In the third quarter and N.C. State facing 3rd-and-goal from the Duke 3, Brown sacked Wolfpack quarterback Pete Thomas for a 9-yard loss to force a field goal attempt. Late in the third quarter with Duke holding a 17-13 lead, Brown's solo tackle on Wolfpack quarterback Brandon Mitchell on 3rd-and-1 from the NC State 30 yard line forced a punt. In the fourth quarter, Brown was credited with a quarterback hurry that helped force an incomplete pass on 3rd-and-5 from the NC State 48-yard line and force another punt.
DEFENSIVE BACK – Ray Vinopal, Pitt, Jr.-R., S, 5-10, 190, Youngstown, Ohio
Vinopal played a vital role in Pitt's 28-21 victory over Notre Dame by having a direct hand in all three Irish turnovers. Vinopal's initial big play came in the second quarter when he stripped receiver TJ Jones of the ball at the Pitt 6, and it was recovered by cornerback Lafayette Pitts. In the decisive final period with the score tied, 21-21, Vinopal halted an Irish drive by intercepting quarterback Tommy Rees in the end zone with 14:04 remaining. Less than four minutes later, he picked off Rees again, returning it 40 yards to the Irish 5 to set up Pitt's winning touchdown. Vinopal added seven tackles and assisted on a tackle for lost yardage.
SPECIALIST – Kermit Whitfield, Florida State, Fr., KR, 5-7, 178, Orlando, Fla.
Whitfield returned a kickoff 97 yards for a touchdown in Florida State's 59-3 win over Wake Forest. Whitfield's touchdown return was the first Seminoles' kickoff return for a score since 2008 and tied for the fourth-longest kickoff return ever for FSU. Whitfield is averaging 34.4 yards on nine kick returns this season, which would lead the conference and be an FSU single-season record if he had the minimum 10 returns to qualify.
ROOKIE – DeVon Edwards, Duke, Fr.-R, S, 5-9, 185, Covington, Ga.
Edwards was named the Walter Camp National Defensive Player of the Week after scoring three touchdowns in Saturday's 38-20 win over NC State. With Duke nursing a 24-20 lead late in the fourth period, Edwards returned interceptions 25 and 45 yards for touchdowns on consecutive Wolfpack offensive snaps just 16 seconds apart to seal the victory. Edwards, who had earlier returned a kickoff 100 yards for a score, became the first FBS player since 2003 to score three non-offensive touchdowns in a single game. He also registered a career-high 10 tackles, broke up a pass and established four Duke freshman single-game records –  longest kickoff return (100 yards), total points (18), highest kickoff return average (49.33 on three returns) and most interception returns for touchdowns (2).