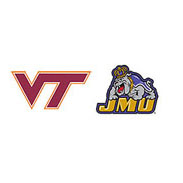 Virginia Tech scored seven runs in the second inning and defeated JMU 11-5 in a non-conference baseball game that was shortened to six innings when a power outage knocked out all of the English Field lights on Tuesday evening.
VT improved to 12-12-1 while JMU fell to 9-16.
Senior right fielder Tyler Gregory (Dothan, Ala./Houston Academy) had two doubles, an RBI and a walk in JMU's 10-hit effort. Senior third baseman Ty McFarland (Bridgewater, Va./Turner Ashby) reached four times with two singles and two hit by pitches. Redshirt freshman first baseman Brett Johnson (Charlottesville, Va./St. Anne's-Belfield) was 2-for-3 with an RBI.
JD Doran earned the win with one inning of relief among six Hokies pitchers in six innings. Starter Mark Gunst (Fairfax, Va./Paul VI) took the loss after allowing six runs on four hits in 1 1/3 innings.
Center fielder Saige Jenco led VT's 16-hit attack with three hits, two runs and two RBIs while right fielder Tom Stoffel also had three hits, going 3-for-3 with two runs and a hit by pitch. Mark Zaguniis was 2-for-4 with three RBIs while catcher Andrew Mogg and third baseman Miquel Ceballos each had two hits, two RBIs and a walk.
Madison struck quickly in the first as junior center fielder Kevin Husum (Panama City, Fla./Bay) and second basemanConner Brown (Richmond, Va./Godwin) were hit by pitches surrounding a McFarland single to load the bases. Redshirt senior first baseman Matt Tenaglia (Doylestown, Pa./Central Bucks East) then returned from a 10-day absence with a two-run single the opposite way through the left side to give the visitors an early 2-0 lead with no outs. Gregory lifted a double into the corner in left for a ground rule to score another run and make it 3-0.
Virginia Tech charged back in the second, getting things started with a hit batter and a walk. A bunt attempt to advance the runners went down for a single to load the bases with no outs. Ceballos singled up the middle to score the first two runs with a fielding error allowing both runners to advance. Jenco singled to left to tie the score at 3-3. After a strikeout, Zagunis singled up the middle to chase Gunst and make it 5-3. After a pitching change, Sean Keselica added a sacrifice fly to left to make it 6-3. With two outs, a single to left by Mogg made it 7-3.
In the third, a walk and fielding error set up two on with no outs and a fielder's choice put runners on the corners with one out.  Sophomore catcher Bobby San Martin (Fairfax, Va./Centreville) lifted a fly to medium-depth center field to score Tenaglia and make it 7-4.
Tech got the run back in the bottom of the frame with a pair of leadoff singles followed by both runners advancing on a balk. Zagunis bounced a grounder to second to plate Ceballos and make it 8-4. Brenden Hayden found the gap for an RBI double to make it 9-4. An infield single by Jenco drove in a run in the fourth to make it 10-4.
In the fifth, Gregory led off with his second double of the game into the corner in left. After a well-struck flyout by San Martin to left center, Johnson singled up the middle to score Gregory and make it 10-5. JMU proceeded to load the bases before a strikeout ended the inning.
VT answered with a two-out rally in the fifth. A pair of singles through the right side set the stage for Mogg's double down the left field line to make it 11-5. The Hokies had two outs and two runners on after a pair of two-out singles in the sixth when a light outlet to the left of the press box blew and knocked out all of the lights in the stadium.
JMU will be on the road this weekend for a three-game CAA series at Hofstra.