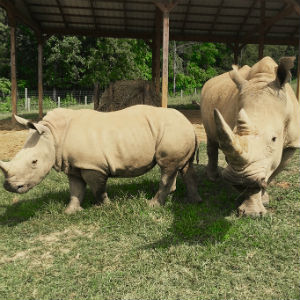 It's been one year since the Virginia Safari Park welcomed its first baby white rhino, a monumental birth for a critically endangered species.
The healthy baby boy was born after a 16-month pregnancy to Samira, a 6 year-old female. Baby Sawyer weighed about 100 pounds at birth and has gained weight steadily. His zookeepers estimate he weighs roughly 875 pounds today, which is still relatively small compared to the weights of adult females like his mother, Samira, who weigh roughly 3,000 to 4,000 pounds and adult males that can weigh up to 5,000 pounds.
The whole rhino herd celebrated with a jumbo frozen popsicle full of Sawyer's favorite treats.
"Sawyer is the first rhino calf to be born at Virginia Safari Park so we are very attached to this little guy," said Safari Curator, Sarah Friedel. "He is full of energy and his favorite thing right now is eating alfalfa with his mom and romping around the paddock with the other young rhino calf. He also loves belly rubs."
Last year, rhinos faced the worst poaching in history, leaving only about 20,000 white rhinos left in the wild. Virginia Safari Park imported 4 female white rhinos from  South Africa to help protect rhinos from being poached in that country. Despite their name, white rhinos are actually grey in color, with two horns on the bridge of their head. Unfortunately, some cultures falsely believe rhino horns, which are made of keratin like our fingernails, can cure diseases. This leaves wild rhinos severely endangered and without continued conservation efforts, it is estimated the wild populations will be extinct in less than 20 years.
"Many of the rhinos within the same territory as the rhinos here at the Park have since been poached for their horns. It is important for the long-term survival of the species, and for our conservation programs in general, to set up additional breeding groups to assist with this cause, " said Eric Mogensen, Corporate Director and CEO of Virginia Safari Park.  "We celebrate this birthday as a promising sign for future rhino conservation within the United States."
Virginia Safari Park is a 180 acre drive-thru adventure, with over 1,000 animals from around the world. The Park is open daily from Mid-March until late November, 9 a.m. to 5 p.m. Conveniently located just off I-81, exit 180/180B, admission tickets are $19.95 for adults, $12.95 for children. Resident, military, senior and group rate specials are available.  Call (540) 291-3205, or visit www.virginiasafaripark.com for event updates, seasonal hours, and more.