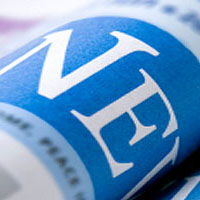 Visitors to the Virginia Quilt Museum will be greeted with celebration on every floor when new exhibits open on May 5. Three different exhibits spotlight the museum's 20th anniversary.
Appropriately called "Celebrate The Day" 71 small quilts honor obscure or lesser-known calendar holidays celebrated throughout the year. Curator Shannon Shirley of Woodbridge, VA collected art work from 53 different artists. Each quilt measures 18" wide by 30" long. Using a variety of techniques, the fiber artists had fun creating pieces honoring such holidays as Bubba Day, Save the Frog Day, and Dress Up Your Dog Day, as well as days acknowledging more serious causes. In keeping with the museum's goal of celebrating Virginia quilters, most of the artists are from Virginia.
The exhibit "Virginia Tribute to Jane Stickle" features quilts honoring the famous 19th century quilter Jane Stickle. Stickle, who lived during the mid-1800s, created a quilt using 225 different quilt block designs. Modern-day "Janes" made their own versions of the Stickle quilt using contemporary color schemes and techniques. A quilt based on the original could take years to make by hand. Approximately 30 quilts of various sizes based on the Stickle pattern are on display.
The museum will show Civil War era quilts from the its collection. In "Civil War Quilts: Antebellum to Reunion" the quilts reflect life before, during, and after the conflict.
To celebrate 20 years of sharing Virginia's quilting heritage, a free preview of the exhibits and a Meet the Artists reception will take place at the museum Saturday, May 2. At 1:30 pm Guest Curator Doreen Johnson from Warrenton, VA will present "A Tribute to Jane Stickle." Reception from 3-4 pm. Reservations are required. Call 540-433-3818 or email info@vaquiltmuseum. org.
All exhibits will be on display May 5 through July 4, 2015.
The Virginia Quilt Museum was founded in 1995 and exists to celebrate quilting in Virginia. The Museum is a 501(c)3 non-profit funded solely through private donations, memberships, and revenue from admissions and museum shop sales. The Virginia Quilt Museum receives no federal or state funding.
For rmore information, see www.vaquiltmuseum.org or call 540-433-3818.