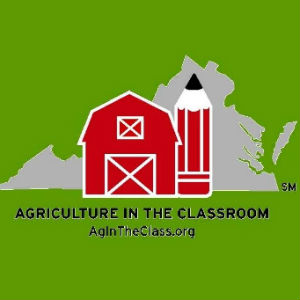 Virginia Agriculture in the Classroom is one of six programs that recently received a grant from the National Agriculture in the Classroom Organization.
NAITCO, a nonprofit organization representing AITC programs in most of the 50 states, selected six state AITC projects for funding as part of a competitive grant program called 'Fire-Up Grants' to support the growth of agricultural literacy in kindergarten through 12th grade.
The purpose of the grant program is to strengthen new and existing AITC programs with additional funding. Money for the program came from the U.S. Department of Agriculture's National Institute of Food and Agriculture.
"We're proud to support our state Agriculture in the Classroom programs to help them reach even more K-12 teachers and students with ways to incorporate agricultural concepts into classroom instruction," said Will Fett, president of NAITCO and executive director of the Iowa Agriculture Literacy Foundation.
Virginia AITC received a grant to expand a volunteer toolkit. The resource kit includes new promotional materials and lesson plans titled Who Grew My Breakfast?, Who Grew my Lunch? and Who Grew My Pizza? to help volunteers teach students the impact of agriculture on all their meals.
"We are honored to be selected as a grant recipient," said Tammy Maxey, senior education manager for Virginia AITC. "With an emphasis on health and nutrition, we felt creating the 'Who Grew My Food?' series would provide volunteers with new tools to teach about healthy choices throughout the commonwealth."
Agriculture in the Classroom is a national program that promotes greater understanding of agriculture through education. The Virginia Foundation for Agriculture in the Classroom is a nonprofit organization that receives financial and administrative support from Virginia Farm Bureau Federation. For more information, visit AgInTheClass.org.