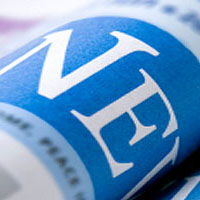 Valley Fourth, Harrisonburg's quintessential 4th of July celebration, is seeking entries for the annual parade, one of the most anticipated events at the full-day festival. The parade will be held on Friday, July 4 at 6:00 p.m. in downtown. The parade route travels South on Main Street, from the Rockingham County Administration Building to the City Municipal Building.
This year's theme is "Celebrating Downtown".
"The parade will be an opportunity to reflect on and appreciate the businesses, organizations, and community members that have contributed to downtown's revitalization," says Katie Yount, Director of Events at Harrisonburg Downtown Renaissance.
Harrisonburg Downtown Renaissance (HDR), winners of the 2014 Great American Main Street Award, will be the grand marshal of the parade. The Great American Main Street award, bestowed by the National Main Street Center, is the nation's premier accolade for downtown revitalization achievement. HDR received the award at the National Main Street Conference in Detroit, MI on May 18.
Harrisonburg Downtown Renaissance has led a remarkable transformation over the last decade, using the National Main Street Center's methodology to reinvigorate Harrisonburg's historic downtown. "As grand marshal of this year's parade, HDR hopes the parade will be a celebration of our community and the efforts that have made downtown Harrisonburg a success story," says Yount.
Parade participants are encouraged to design a parade entry that will highlight things they love about downtown. Entry forms are available at DowntownHarrisonburg.org/ValleyFourth. The deadline for entries is June 20.
In addition to the parade, Valley Fourth attendees can expect to enjoy a full day of activities, including the second annual Grillin' at the Pavilion Cook-off, Beers 'N Cheers in the Park, live music, children's activities, a fireworks finale, and more!
Valley Fourth, organized and presented by Harrisonburg Downtown Renaissance, is the largest community celebration in Harrisonburg, drawing more than 10,000 residents and visitors to downtown each year. All Valley Fourth activities are provided to the public thanks to the participation and cooperation of local businesses, organizations, and volunteers.
For more information about Valley Fourth, please call 540- 432-8909 or visit DowntownHarrisonburg.org/ValleyFourth and Facebook.com/valleyfourth.