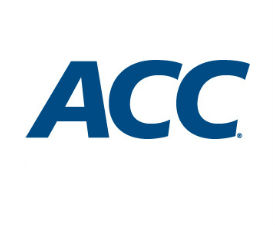 The UVa. women's basketball team (13-16, 6-10 ACC), the 10-seed in the 2014 Atlantic Coast Conference Women's Basketball Tournament, will face 15-seed Boston College on Wednesday, March 5 at 3:30 p.m.
The new-look tournament, which will be held from Wednesday, March 5 through Sunday, March 9 at the Greensboro Coliseum, will feature all 15 ACC teams and 14 games, beginning with three first-round matchups on Wednesday. Four second-round games are scheduled for Thursday, followed by the quarterfinals on Friday, the semifinals on Saturday evening and the championship game on Sunday at 7 p.m.
The second round opens Thursday at 11 a.m., when No. 5 seed Syracuse (21-8, 10-6) faces Wednesday's Virginia Tech-Clemson winner. No. 8 Miami (16-13, 8-8) will face No. 9 Florida State (19-10, 7-9) at 2 p.m. The third game of Thursday's session finds No. 7 Georgia Tech (19-10, 9-7) taking on the Virginia-Boston College winner at 6 p.m. The second round concludes on Thursday at 8 p.m., with No. 6 North Carolina (22-8, 10-6) meeting the winner of Wednesday's Wake Forest-Pitt game.
NC State begins action on Friday at 11 a.m., when it faces the winner of Thursday's first game. Notre Dame plays its first-ever ACC Tournament game at 2 p.m., when it faces Thursday's Miami-Florida State winner. The evening session begins at 6 p.m., with Duke facing the winner of Thursday's third game. Maryland meets the winner of Thursday's final game in the closing game of Friday's quarterfinal session at 8 p.m.
Top-seeded Notre Dame (29-0, 16-0 ACC), second-seeded Duke (25-5, 12-4), third-seeded Maryland (24-5, 12-4) and fourth-seeded NC State (24-6, 11-5) will receive byes into Friday's quarterfinal round.
The winner of Friday's first two games will meet in Saturday's 5 p.m. semifinal game, while the winners of the Friday evening session will meet Saturday at 7:30 p.m.
The championship game of the 2014 ACC Women's Basketball Tournament will be played Sunday at 7 p.m.
All 14 games of this year's tournament are set to be televised. The first, second and quarterfinal rounds will be carried by the league's regional sports network, RSN. Both of Saturday evening's semifinal games will be carried nationally by ESPNU, while a national audience will watch Sunday's championship game via ESPN. All games will also be available via ESPN3 and WatchESPN.
Greensboro Coliseum will play host to the ACC Women's Tournament for the 15th consecutive year.
Tournament Schedule:
Wednesday, March 5
Game No. 1 – Seed No. 12 Virginia Tech vs. Seed No. 13 Clemson, 1 p.m. (RSN)
Game No. 2 – Seed No. 10 Virginia vs. Seed No. 15 Boston College, 3:30 p.m. (RSN)
Game No. 3 – Seed No. 11 Wake Forest vs. Seed No. 14 Pitt, 6:30 p.m. (RSN)
Thursday, March 6
Game No. 4 – Seed No. 5 Syracuse vs. Winner of Game No. 1, 11 a.m. (RSN)
Game No. 5 – Seed No. 8 Miami vs. Seed No. 9 Florida State, 2 p.m. (RSN)
Game No. 6 – Seed No. 7 Georgia Tech vs. Winner of Game No. 2, 6 p.m. (RSN)
Game No. 7 – Seed No. 6 North Carolina vs. of Game No. 3, 8 p.m. (RSN)
Friday, March 7
Game No. 8 – Seed No. 4 NC State vs. Winner of Game No. 4, 11 a.m. (RSN)
Game No. 9 – Seed No. 1 Notre Dame vs. Winner of Game 5, 2 p.m. (RSN)
Game No. 10 – Seed No. 2 Duke vs. Winner of Game No. 6, 6 p.m. (RSN)
Game No. 11 – Seed No. 3 Maryland vs. Winner of Game No. 7, 8 p.m. (RSN)
Saturday, March 8
Game No. 12 – ACC Semifinal No. 1, 5 p.m. (ESPNU)
Game No. 13 – ACC Semifinal No. 2, 7:30 p.m. (ESPNU)
Sunday, March 9
Game No. 14 – Championship Game, 7 p.m. (ESPN)