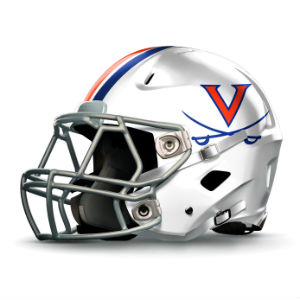 Five members of the UVA football team have been named College Award winners by the Touchdown Club of Richmond.
Quarterback Bryce Perkins has been named the Touchdown Club's offensive back of the year, linebacker Chris Peace has been named the linebacker of the year, cornerback Bryce Hall has been named the defensive back of the year, receiver Olamide Zaccheaus has been named the offensive end of the year and punter Lester Coleman is the co-humanitarian award winner.
Perkins is one of three finalists for this year's prestigious Dudley Award, presented to the state's top player.
Hall (Jr., Harrisburg, Pa.) leads the nation with 22 passes defended and 20 pass breakups. He boasts 59 tackles, 3.5 tackles for loss, 2.0 sacks, two interceptions, forced two fumbles and recovered another fumble. Hall was named ACC Defensive Back of the Week after making five tackles, breaking up three passes and intercepting another at Duke. Pro Football Focus (PFF) ranks him No. 4 in the nation among defensive backs in regards to forcing an incompletion and he is the highest graded ACC cornerback through 12 games, per PFF. Hall also earned first-team All-ACC honors.
Peace (Sr., Newport News, Va.) leads the ACC's linebackers with 6.0 sacks, which also ranks No. 9 among the nation's linebackers. He is second on the team with 63 tackles and leads UVA with 13 quarterback hurries. Peace ispart of a pass rush that assists the UVA secondary, which ranks No. 3 in the ACC and No. 16 in the nation with 180.1 passing yards allowed per game. Peace also earned third-team All-ACC honors.
Perkins (Jr., Queen Creek, Va.) is No. 2 in the ACC and No. 16 in the nation with 188 points responsible for. His 3,314 yards of total offense is a UVA single-season record and it currently ranks No. 2 in the ACC and No. 18 in the nation. Perkins and Oklahoma's Kyler Murray are the only players in the nation with at least 2,400+ passing yards and 800+ rushing yards. Perkins is the only ACC player with at least 20 passing touchdowns and nine rushing touchdowns. Perkins also set a UVA single-season record with 31 touchdowns (22 passing, nine rushing) responsible for. He was clutch on third down passing (65 percent) and rushing, where he averaged 7.6 yards per rush with 15 first downs and four rushing touchdowns. Perkins rushed for 1,032 yards when you adjust for sacks. Perkins also earned honorable mention All-ACC honors.
Zaccheaus (Sr., Plainfield, N.J.) is No. 2 in the ACC and No. 11 in the nation with 81 receptions. He is also No. 3 in the ACC with 958 receiving yards. Zaccheaus is the only ACC player to have at least 70 receptions in 2017 and 2018. He set a UVA single-game record with 247 receiving yards against Ohio, which also serves as the most receiving yards in a game this season by an ACC player and is tied for No. 3 in all of FBS in 2018. Zaccheaus needs only 42 receiving yards to become just the third Cavalier to reach 1,000 receiving yards in a season. Zaccheaus also earned first-team All-ACC accolades.
Coleman (Sr., Martinsville, Va.) is No. 4 in the ACC with 42.1 yards per punt. His 43.1 career average ranks No. 3 all-time at UVA. In the community, Coleman is involved with everything from UVA's Green Dot program (Not on Our Grounds), to working with the One Love Foundation, Relay for Life, Student-Athlete Advisory Council and Student-Athlete Mentors. He also is a regular when the UVA football team makes Children's Hospital visits.
Richmond's John Yarbrough was named the offensive lineman of year, Virginia Tech's Ricky Walker was named the defensive lineman of the year and JMU's D'Angelo Amos was named the specialist of the year. Coleman shares humanitarian man of the year honors with JMU's Grant Westbrook.
The Dudley/Lanier Award Banquet is open to the public and will be held Wednesday, December 12, at the Hilton Richmond Hotel, 12042 West Broad Street, 6 p.m. Tickets cost $50.00 each and may be purchased by calling Ron Axselle at 804-310-0222, or by emailing [email protected].
Also at this event, the Dudley Award and the Lanier Award will be presented to the top collegiate player in the state with the Dudley Award going to a NCAA Division I player and the Lanier Award presented to a player from a NCAA Division II, IIII, NAIA and IUSCAA college.
The Dudley Award is named for the late Bill Dudley, an NFL Hall of Famer who starred at Virginia while the Lanier Award is named for Willie Lanier, also an NFL Hall of Famer who graduated from Richmond's Maggie Walker High School. The Touchdown Club of Richmond is a sports-social organization that serves to promote the best interests of the American game of football and sports in general, under the guidance of elected officers with the predominate purpose being to recognize worthy athletes for their accomplishments and to encourage them to continue their education and athletic careers.