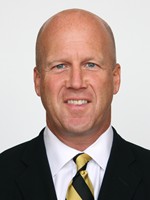 Brad Soderberg has been named assistant coach at Virginia, head coach Tony Bennett announced on Friday (April 17). Soderberg replaces Ritchie McKay, who returned to Liberty University as head coach after serving on Bennett's staff for six seasons.
Soderberg has 19 years of head coaching experience, including six at the NCAA Division I level. He most recently served as head coach of Lindenwood University (St. Charles, Mo.) where he became the all-time winningest head coach in school history with 127 wins the past six seasons. Soderberg also served as head coach at Saint Louis (2002-07), South Dakota State (1993-95) and Loras College (1988-93).
"I'm excited and fortunate to add Brad Soderberg to the Virginia men's basketball family," Bennett said. "I have known Brad for over 30 years and he has one of the sharpest minds that I've been around in college basketball. He has a wealth of knowledge and experience, and is extremely loyal. Brad has coached against the best coaches and teams in the Big Ten, Conference USA and Atlantic 10, and has won at every level. Our players and staff are going to love working with Brad."
Soderberg coached at Wisconsin for six years from 1995-2001 where he started as an assistant coach under Bennett's father, Dick. Soderberg helped the Badgers advance to four NCAA Tournaments, including the 2000 Final Four, and one NIT appearance.
In 2000-01, Soderberg took over as the interim head coach early in the season, and along with assistant coach Tony Bennett, guided Wisconsin to an 18-11 overall record and NCAA Tournament appearance. Soderberg was the first Wisconsin coach since 1911 to win his first eight games, and the first to lead the Badgers to the NCAA Tournament in his first year.
He also spent one year as an assistant coach at Saint Louis in 2001-02 under current Washington head coach Lorenzo Romar.
"I am humbled and excited by this opportunity," Soderberg said. "I'm flattered that Tony believes I can contribute in some way to all he, his staff and players have built at Virginia. I am a proud graduate of the School of Bennett Basketball founded by his father, Dick, who I played for at UW-Stevens Point and assisted at Wisconsin. I'm equally proud to join the Cavalier program as we continue to build on the remarkable standards Tony has established."
Soderberg compiled 80 wins as head coach at Saint Louis and led the Billikens to a pair of postseason berths. In 2002-03, CollegeInsider.com named him Conference USA Coach of the Year after leading the Billikens to a C-USA semifinal tournament appearance and NIT berth. In 2003-04, the Billikens advanced to the semifinals of the C-USA Tournament and second round of the NIT. Soderberg was just the third Billiken coach to take the team to back-to-back postseason appearances in his first two years as head coach.
Soderberg was the head coach at South Dakota State for two seasons and Loras College for five seasons. He was named the National Catholic Basketball Tournament Coach of the Year in 1992 after leading Loras to a runner-up finish. He also held previous coaching jobs at Loras, University of Wisconsin-Stevens Point, Colorado State and Fort Hays State. He also spent the 2008-09 school year at Loras as the interim Director of Athletics.
Soderberg played for Dick Bennett at UW-Stevens Point and teamed with former NBA all-star Terry Porter to lead the Pointers to the 1984 NAIA National Championship game.
"Tony Bennett was raised by one of the great coaches in college basketball history," Soderberg added. "I have been amazed from afar at Tony's ability to take the principles and techniques he learned from his dad and construct the UVa program as quickly and soundly as he has. I am profoundly honored to help him continue along this path."
Soderberg will begin his duties at Virginia on Wednesday, April 22.