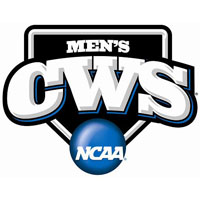 The last time UVA went out west for an NCAA baseball regional was 2009. That Cavs squad had to battle through Stephen Strasburg and Cal-Irvine on the road to what became the school's first-ever appearance in the College World Series.
The 2015 'Hoos are headed back out west, to the Lake Elsinore Regional, hosted by UC-Santa Barbara, essentially the #16 national seed, with the winner of the regional matched up with the winner of the Los Angeles Regional hosted by #1 overall seed UCLA.
UC-Santa Barbara (40-15-1) was 16th in the final regular-season RPI. USC (35-19), the #2 seed in the regional, is 25th. Virginia, the #3 seed, (34-22) is 21st, with #4 seed San Diego State (37-21) at 87.
So just from an RPI perspective, this one is doable from a UVA perspective.
Breaking down: UC-Santa Barbara
The Gauchos are small-ball specialists (17 homers, 63 steals in 2015) built on pitching (2.39 team ERA).
UCSB is likely to save Friday-night guy Dillon Tate (8-4, 2.08 ERA, 100K/27BB in 95.1 IP, .187 oppBA) for its second game, though it has a lot of options in the ace category, with four starters getting 10 or more starts with a sub-3.00 ERA (Shane Bieber 8-4, 2.26 ERA), Justin Jacome 7-4, 2.53 ERA, Dominic Mazza 6-1, 2.69 ERA).
Breaking down: USC
The Trojans will decide between Kyle Davis (3-2, 4.23 ERA, 43K/16BB in 44.2 IP, .297 oppBA), Kyle Tworney (7-2, 2.87 ERA, 65K/35BB in 86.1 IP, .253 oppBA) and Mitch Hart (7-3, 3.67 ERA, 48K/37BB in 81 IP, .235 oppBA) for Friday's opener.
Davis has been getting the ball on Friday nights of late, so he may be the guy.
Offensively, Southern Cal is built somewhat like Virginia, without a lot of power (33 homers in 2015), but where USC produces runs is through its willingness to run, early, often and even more than that. The Trojans have stolen 93 bases in 125 attempts in 2015, with six players swiping at least nine bases this season.
Virginia, in contrast, attempted just 59 steals, with 37 successes, and UVA opponents were just 34-for-57 on steals in 2015, so expect to see USC be a lot more active than what you're used to seeing.
Breaking down: UVA
The unknown for Virginia is the status of All-America lefty Nathan Kirby (5-2, 2.28 ERA, 75K/30BB in 59.1 IP, .233 oppBA), who has been out since mid-April with a strained lat. UVA coach Brian O'Connor said last week that it looks like Kirby will be available this week, but how much he will be available, i.e. for a start, for long relief, for short relief, is at question.
In any capacity, Kirby will be a welcome addition for a Virginia staff that has had to rebuild itself in his absence, with closer Josh Sborz forced into a spot-starter role since Kirby went down, exposing the lack of depth in the late innings beyond Sborz (3-2, 2.17 ERA, 12 saves, 46K/20BB in 54 IP, .172 oppBA).
Breaking down: San Diego State
Seby Zavala is the power bat of this regional (14 HR, 64 RBI), and Bubba Derby is the power arm (122K in 94 IP).
The Aztecs score lots of runs (6.4 per game), and give up lots of runs (4.07 team ERA).
– Column by Chris Graham