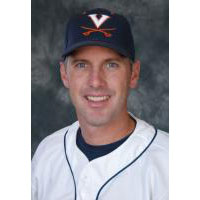 UVA head coach Brian O'Connor has been named the American Baseball Coaches Association's Atlantic Region Coach of the Year. This marks the third time O'Connor has earned this distinction from the ABCA (2009, 2011).
The award is voted on by the head coaches of the region's 38 schools, which consists of schools along the East Coast from Virginia to Florida.
O'Connor led Virginia to the College World Series Finals for the first time in program history as well as the program's third CWS berth in the last six seasons. The Cavaliers posted a 53-16 record, winning an NCAA regional and super regional on their home field before capturing their bracket in the CWS to advance to the finals series. UVa dropped a thrilling championship series, two games to one, to Vanderbilt in its bid for the program's first national title.
In recording the second-most wins in school history, Virginia finished second nationally with a 2.23 team ERA, which tied for the second lowest mark in the program annals. UVa set a school record with a .981 fielding percentage, which ranked fourth nationally.
Virginia also crushed its school attendance records in 2014. UVa drew 142,496 fans over 38 home dates, good for an average of 3,749 per game. Both attendance totals ranked 11th nationally.
UVa had eight players selected in the 2014 Major League Baseball Draft, tied for the second most of any school. The Cavaliers had three players selected in the first round, most of any program in 2014.