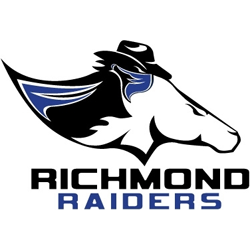 After holding the Trenton Freedom scoreless in the third quarter and building a 32-16 lead, the Richmond Raiders felt good about their changes to avenge an opening night loss to the Freedom. Victory – and the ball – proved elusive, as the Raiders' fourth fumble of the game opened the gates for a furious Trenton rally in the final two minutes for a stunning 33-32 victory in Trenton Saturday night.
Phil Konopka, making his second start, had a 232 yard passing performance with two touchdowns when he got the ball cleanly. But he and center Roman Pritt fumbled three exchanges including one at the Raiders' 22 yard line that gave the Freedom hope, as they trailed 32-24 with under a minute to go. Warren Smith threw his second fourth quarter touchdown, but the Freedom's two point conversion attempt with 36 seconds left was no good.
Forced to try an onside kick, Roger Jackson recovered the bounder off the foot of Shawn Leo, and five plays later Leo knocked through the game winning 29 yard field goal. The Raiders dominated the middle part of the game, intercepting Smith three times and getting a 47 yard strike from Konopka to Deron Clark late in the first half to go into the break up by two. They continued a 21-0 run on a Herb Jones reception and a Kenny Jones run in the third quarter.
Both offenses stalled in the fourth quarter and the teams traded three and outs leading to long field goal attempts, the latter of which backed the Freedom up to their five yard line trailing by 16. Smith connected with Jackson for a touchdown, and the two point conversion was no good but negated by a late hit penalty. Given another chance, the Freedom cashed in and were in position to win on their last possession.
Trenton got off to a fast start, going up 10-0 before Kenny Jones' first of two touchdowns and a T.C. Stevens uno got the Raiders back in the game. Both defenses had stretches of good play. Konopka was sacked five times, and Smith four, including on fourth down during the Raiders' scoring binge in the third quarter. Each starting defensive back – Larry Williams, Malik Cromartie, and Torez Jones – had an interception, and Christian Lacey had three sacks.
The Raiders drop to 1-4 and will have a bye next week before a rematch with Trenton in Richmond on May 17. Tickets for all remaining home games start as low as $7, and are available on the Raiders' website, www.RichmondRaidersProFootball.com, or by calling 1-855- GO-RAIDERS or 804-780-0430. Additionally, fans can contact the Richmond Coliseum box office or visit ticketmaster.com.