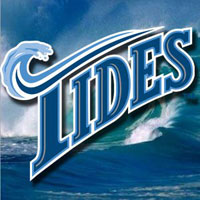 The Norfolk Tides nearly came all the way back from a 9-0 deficit Friday night at Harbor Park before falling to the Scranton Wilkes-Barre Yankees 9-7 in front of 7,496 fans.
Trailing 9-2 in the seventh inning, the Tides put the first three batters on base with two singles and a walk that ran Scranton Wilkes-Barre starter Kel Igawa from the game. Eric Wordekemper retired the first two batters he faced before Tyler Henson lined a single up the middle that scored Matt Angle. Ryan Adams nearly scored on the play from second base, but his run was wiped from the board when Rhyne Hughes was tagged out at third base to end the frame just before Adams crossed the plate.
The Tides added four more runs in the eighth inning, but had a chance to score more. Hughes and Fox hit consecutive two-out RBI singles that moved the score to 9-5. Brandon Snyder followed with an RBI single down the left field line, but the first baseman was caught in a rundown after trying to take second base, and Fox couldn't score before Snyder was tagged out to end the inning.
The Yankees jumped all over Tides starter Chris George in the first inning, scoring three times before the lefthander retired a batter. Jesus Montero delivered the big blow with a two-run double that plated Dan Brewer and Jordan Parraz. Montero later came around to score on a sacrifice fly from Brandon Laird.
The Yankees put up four more runs in the fourth inning before running George from the game. The visitors loaded the bases with no outs on an error by Nick Green and consecutive singles. Austin Krum followed with a sacrifice fly ahead of back-to-back RBI singles by Parraz and Montero. Terry Tiffee, who had an RBI single an inning earlier, plated Parraz with a sacrifice fly.
George (3-4, 4.79) lasted just 3.1 innings and gave up nine runs (seven earned) on seven hits. He walked three batters and struck out none before handing the game over to Cole McCurry.
McCurry kept the visitors at bay. He tossed 3.2 innings of shutout baseball and allowed just two hits. Mark Hendrickson added 2.0 innings of scoreless baseball.
Igawa (1-0, 2.78) labored through 6.0 innings despite being staked to a big lead. He was charged with just three runs but allowed six hits and issued five walks.
The Tides will welcome the Charlotte Knights to Harbor Park Saturday night for a double-header. RH Rick VandenHurk (5-8, 4.64) is scheduled to take the ball in game one against RH Dylan Axlerod (0-0, 1.37). Starters for game two have not yet been announced. First pitch for game one is scheduled for 5:15. Both games will be seven inning contests. A spectacular fireworks display will follow the conclusion of the second game.