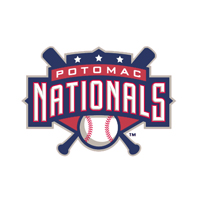 The Potomac Nationals (51-44, 13-13) and Wilmington Blue Rocks (47-48, 14-13) battled for eight innings before the first run was scored in a tightly contested 3-0 game that Wilmington ultimately won. The win gives the Rocks sole possession of first place in the second half in the Northern division.
RHP Austin Voth registered his fifth straight start for Potomac in which he recorded greater than six innings and six strikeouts. Voth fanned eight over his seven scoreless innings. He allowed a hit, a walk and retired the final 16 Blue Rocks he faced in his no decision.
The runs for Wilmington all came in the ninth off RHP Ian Dickson (L, 1-8). With the bases loaded and one out, DH Michael Antonio hit a deep fly ball to left field to score CF Terrence Gore. In the next at-bat, LF Cody Stubbs delivered a two-run double off the left field wall to break the game open.
LHP Jonathan Dzeidzic was just as effective in his start for Wilmington. He also went seven innings without surrendering a run and struck out four P-Nats.
Potomac had their opportunities to score in the later innings. In the bottom of the eighth, 3B Khayyan Norfork hit a ball to left-centerfield that put him at second base. Before the next pitch was thrown, the Blue Rocks appealed over to first base to see if Norfork missed the bag. Bases umpire Chase Eade called Norfork out for not touching first on his way to second. RHP Blake Wood (W, 1-1) allowed a single in the ninth but ultimately shut the door for the win.
Home plate umpire Mike Provine ejected Nationals' Manager Tripp Keister in the ninth inning.
The Potoac Nationals Baseball Network, which is accessible at www.potomacnationals.com, will broadcast the first game of a three game series at Salem on Saturday, July 19th. Broadcast coverage will begin with the P-Nats Leadoff Show at 6:50pm in preparation for the 7:05pm start. The P-Nats are will throw LHP Matthew Spann (6-4, 4.39) while Salem will send RHP Simon Mercedes (2-5, 4.06) to the mound.