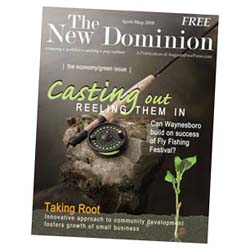 The New Dominion Magazine is spinning off a new print product highlighting local and regional tourism with its March 2011 issue.
Stories, photos and information items will focus on hot tourist spots and things to do in the spring and summer in the Valley and Central Virginia.
The award-winning staff of Crystal Graham, Chris Graham and photographer Mark Miller will be scouring the region for what's going on to share with New Dominion readers.
The special issue will be distributed for free to more than 50 locations in Staunton, Waynesboro and Harrisonburg.
The advertising deadline for the Spring/Summer Tourism Issue is Feb. 23. The tourism-focused magazine will be available the first week of March.
A second tourism-focused issue is planned for September 2011 focusing on fall and winter activities in the region.
For more information on advertising or to share story ideas or calendar of events entries, call 540.949.6574 or e-mail [email protected].
For more information on The New Dominion Magazine, visit www.thenewdominion.com.