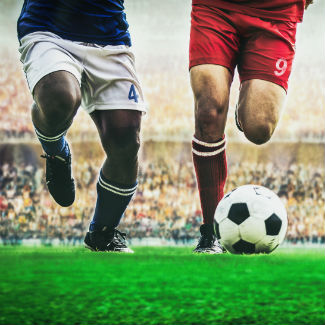 La Liga is one of the most worth-seeing leagues in the world, which stands just behind the Premier League. Why? Because it gathers the most significant players and legends of all time, including the rival couples and duos like Laszlo Kubala and Alfredo Di Stefano, Ronaldo, and Messi.
As there have been many talented players, legends, strikers, and defenders, it is not easy to list out a few outstanding ones. However, we have finally picked out the most successful La Liga footballers in the world based on their performance and titles in this league. Then, you can choose your favorite one. Let's check this out.
#3. Raul Gonzalez
Raul Gonzalez was considered one of the greatest strikers in Real Madrid and the world. He was a legend in the top 3 scorers of all time for Real Madrid with totally 343 goals over 741 matches.
Raul Gonzalez was a smart striker, which had left foot as his strong foot. He was fast and aggressive but also strong and creative. He could score from a distance thanks to his powerful shots and was also deadly inside the penalty box. With his magical left foot, nothing was impossible.
The Spanish striker was not only a great player but also an exemplary captain of Los Blancos. He led his team to win many titles since he received the captain's armband. As a disciplined player, he had not received any red cards throughout his career.
It seemed like Raul was born to be a Madrid's son, though he started his career in Atletico Madrid. He served the Royal football club for an incredible sixteen years through the ups and downs. He was still the most capped player in Real Madrid history, with 741 appearances, which was incredible. Let's take a quick look into the legacy of Raul in Real Madrid trophy collection.
Six La Liga titles, three Champions League trophies, four Spanish Super Cups, and other personal awards and records.
#2. Cristiano Ronaldo 
A "scoring machine", a superstar, a monster, an "alien", etc., whatever you call him, it will never be enough because he is Cristiano Ronaldo.
Ronaldo transferred to Real Madrid with a breaking-record fee for a player in the world – 80 million euros, which made him the most expensive striker at that time. And the rest was history. The arrival of Ronaldo impacted the whole league, and his only respective rival was Lionel Messi playing for Barcelona.
Ronaldo went to the hall of fame in La Liga as the second top-scoring striker of all time. His achievement was absolutely stunning with a total of 311 goals after just 292 games, which is only behind Messi's stats. This also means the ratio of Ronaldo was 1.07, and he is the only one to reach such this number.
Until now, Ronaldo was the greatest forward in Real Madrid of all time, who broke many records during the time he played for Los Blancos. He appeared 438 times and scored 450 goals in total, which also made him the top highest scorer of the Royal football club. His departure to Juventus left a massive space for the club and fans that they can never fill up soon.
"CR7" is a scoring machine and a trophy hunter. His only aim is the title, and he would do everything to achieve it. With Real Madrid, he had almost the precious titles that everyone dreams of: two La Liga titles, four Champions League trophies, two Copa del Rey trophies, two Spanish Super Cups, three European Super Cups, three FIFA Club World Cups.
He also got personal awards: Ballon d'Or winners in 2008, 2013, 2014, 2016, 2017, FIFA Player of the Year 2008, and UEFA Best Player in Europe Award as the highest awards for the Portuguese superstar.
#1. Lionel Messi
Undoubtedly, Lionel Messi is the best and greatest La Liga footballer in the modern era, who is still playing and carrying for the Catalans.
As mentioned above, Messi and Ronaldo is a classic duo of all time. They all consider each other the respective rival and replace each other to achieve the Ballon d'Or winners every year. Now, Ronaldo has left for Juventus, but Messi loyally serves for Barcelona without any requests.
Messi is an exemplary striker in and outside the playground. He is always out of the scandals or trouble, living a normal life with his happy family. On the ground, he is simply perfect. The natural talented Argentine striker has an incredible left foot, which can do everything from passing, dribbling, and shooting.
Not many defenders can challenge the ball from this man. They either stand still like a clown watching he passing over, or tackle and foul. Messi is a nightmare for every defensive line. His free-kick skill is even amazing. He can draw beautiful curves into the net that hardly do goalkeepers have the chance to save.
For over 15 years in Barcelona, Messi had himself 452 appearances with 419 goals in La Liga, which recorded the highest goals of all time in this league. He also has a few years to be on the top of his career and achieve more titles with Barca.
Together with Barca, Lionel Messi has won numerous personal and club titles. He's got ten La Liga titles, six Copa del Rey trophies, four UEFA Champions League trophies, eight Spanish Super Cups, three FIFA Club World Cups, and three European Super Cups.
He is also the only one to win the Ballon d'Or winners five times: 2009, 2010, 2011, 2012, 2015. He also won FIFA Player of the Year 2009 and many other precious personal titles in his career.
Final words
Above are the most successful La Liga footballers in the world that are listed out based on their performances and trophies. As you can see, one man was in the old generation, and two others are in the new era of the football world. For me, I would go for Cristiano Ronaldo because of his crazy hard work, practice, consistency, and ambitiousness. For you, which one is your favorite?