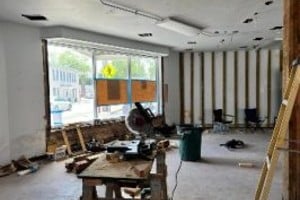 If the name Aristocat Café makes you think of a 1970 Disney film, you aren't imagining the similarity.
Amanda Atwell said her husband, Brent, thought of the name for her new business, which will open in September in Harrisonburg.
"That's one of my favorite movies," Atwell said. The orange tabby named O'Malley in the film, "The Aristocats," is an homage to her first cat.
Atwell grew up in Harrisonburg, but lives in Keezletown with her husband and two children, Henry, 4, and Josie, 1. She earned a business degree, attended culinary school and most recently owned her own catering business for eight years.
"We are a tea house primarily," Atwell said. "I'm a chef by trade."
Aristocat Café will partner with the Humane Society of the Shenandoah Valley to allow 15 to 20 cats to live in a 480-square-feet of space at the café.
"The vision is to have a self-sustaining community-funded foster home that just also has great tea and food," Atwell said.
The café is five years in the making after Atwell and her husband visited a cat café in Canada in 2017.
"I always had the idea of how cool would it be to have a café with tea and cats," she said.
As a teenager, Atwell fostered cats from two local organizations, and her passion for cats has not diminished. She has also fostered cats with special medical needs.
"I'm just really looking forward to being able to put my two great loves together — tea and cats." As a child, Atwell would make cakes while "my cat wound around my feet hoping for some cake batter to fall."
Ninety varieties of tea, including herbal, red, yellow, green and black will be available. Atwell has selected a variety of teas from around the world to share in her café.
"I'm just so excited to be able to find a place," Atwell said, after five years of disruptions in her business plan, including the COVID-19 pandemic and the challenge of finding a suitable location for her café.
Aristocat Café will be not only cat friendly. Individuals are welcome to sit in the café separate from the cat area, where cats will have front row seats in windows to people watch.
"It is designed for the health and the happiness of the cats," she said.
Appointments in the cat area will be scheduled and all charges for appointments will go toward taking care of the cats. The goal is to get them adopted.
"It's something that's been on my heart and mind for some time," Atwell said of the café.
Aristocat Café will be at 111 North Liberty Street, Harrisonburg.