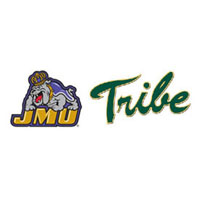 Terry Tarpey recorded the first triple-double in William and Mary's 110-year history and Marcus Thornton knocked down seven treys to lead the Tribe to an 81-73 Colonial Athletic Association men's basketball victory over James Madison on Saturday afternoon at Kaplan Arena.
Tarpey recorded 18 points on 6-of-11 shooting and brought down a game-high 11 rebounds and career-high 10 assists to lead the Tribe (9-6, 3-1 CAA) to their seventh home win of the season in as many tries. Thornton earned game-high point honors with 27 points on 8-of-13 shooting, including an impressive 7-of-11 clip from long range. He also brought down seven rebounds and dished out five assists in the win. Three other W&M players had at least seven points and Sean Sheldon made a game-best four blocks.
The Dukes (9-8, 2-2 CAA) had three players score in double figures, led by junior guard Ron Curry (Pennsauken, N.J./Paul VI), who had 14 points on 5-of-18 shooting, to go with four assists. Sophomore guard Jackson Kent (High Point, N.C./High Point Christian) and junior guard Winston Grays (Cleveland, Ohio/Benedictine (Cincinnati State)) both tallied 13 points as Kent added a team-high eight rebounds and four dimes, while knocking down a trio of 3-pointers.
William and Mary shot 45.2 percent (28-62) for the game and 41.7 percent (10-24) from long range. On the other end, JMU shot a little better as a team with at 48.3 percent (29-60) from the floor and 43.8 percent (7-16) from beyond the arc. The Tribe outrebounded the Dukes 23-16 in the second half to win the rebounding battle, 37-33 for the game. W&M outscored Madison 10-5 on second-chance opportunities after leading on the offensive glass, 10-6.
W&M led for over 35-and-a-half minutes and JMU only led for 10 seconds at 2-0, leading to only one lead change on the afternoon.
The Tribe jumped out to a 7-2 lead in the opening four minutes and leading 7-4, the hosts had a pair of free throws to start a 7-0 run, capped off by a Tarpey layup with 13:59 remaining, to give W&M a 14-4 lead. Later in the half and down nine at 25-16, a Kent triple and Yohanny Dalembert (Port-au-Prince, Haiti/Lower Merion (Pa.)) layup trimmed the deficit to 25-21 with just under six minutes to play.
The Tribe upped the lead to six but Curry had a steal and layup to open another 6-0 surge to tie things up at 29-29 with2:34 left. W&M hit a 3-pointer to JMU's 2-point jumper to take a 32-31 lead at halftime.
William and Mary had a pair of baskets to open the second half scoring to extend the lead to 36-31, a lead it would never relinquish. After sophomore forward Paulius Satkus (Raudondvaris, Lithuania/Barking Abbey (England)) scored on a layup to cut it to 40-37 with 14:28 left, Omar Prewitt hit a jumper seconds later and Thornton knocked down a trey to give the home team a 45-37 advantage with under 14 minutes to go.
JMU got to within four at 50-46, but a pair of Thornton treys 30 seconds apart stretched W&M's lead to 56-46 with 9:17left. Leading 56-51, a traditional 3-point play by Tarpey created a 12-2 William and Mary run in less than three minutes to give the Tribe a 68-53 advantage with 4:25 to play.
JMU reeled off the next eight points to cut it to 68-61 but would never draw closer than six points down the stretch as W&M knocked down 7-of-8 free throws to preserve the home triumph.
The Dukes return to the court Thursday night in Philadelphia, Pennsylvania, when they travel to Drexel. Tipoff is set for 7 p.m. from the Daskalakis Athletic Center. The game will be televised on Comcast SportsNet and the Comcast Network and can also be heard on MadiZONE HD SportsNet, presented by the JMU Alumni Association, and on the local airwaves at WSVA AM 550 and 92.1 FM.