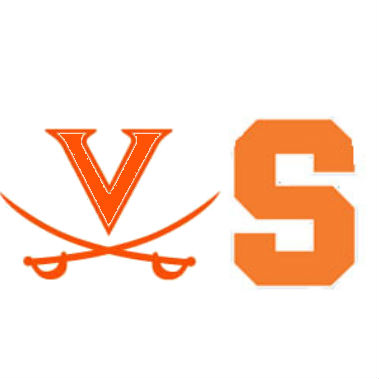 The UVA women's basketball team (12-3, 2-1 ACC) fell 70-58 at No. 21 Syracuse (11-5, 1-2 ACC) on Sunday (Jan. 11) at the Carrier Dome in Syracuse, N.Y.
Virginia got off to a slow start in the first half, going making 10 of 39 shot attempts in the period, while the Orange made eight three-pointers to take a 41-23 lead into halftime. The Cavaliers briefly cut the deficit to single digits with 12:30 remaining in the game, but Syracuse's timely three-pointers cut down Virginia's comeback attempts.
"Syracuse ran a four-guard lineup and we struggled with our posts," said Virginia head coach Joanne Boyle. "We didn't hit shots early. They got transition going on us. We were never really settled. We made a couple of runs in the second half, but we had some defensive breakdowns and they pushed the lead back up. Syracuse is a really good team and they played really well tonight."
Junior guard Faith Randolph (Derwood, Md.) scored a team-high 24 points, her sixth 20-point game of the year, going 10-of-22 from the field including making three three-pointers. Senior center Sarah Imovbioh (Abuja, Nigeria) scored 14 points with nine rebounds. Freshman forward Lauren Moses (Randolph, N.J.) matched her season-high with 13 rebounds, grabbing 11 of them in the first half.
Syracuse had four players finish in double-digits, led by Alexis Peterson with 16 points and five assists. Diamond Henderson had eight points, eight assists, three rebounds and three steals.
Virginia started the game making just one of its first 12 field goal attempts, including going 0-of-7 to start the game. Syracuse's Alexis Peterson started the game on fire, scoring the Orange's first 10 points to push Syracuse out to an early 10-2 lead. Randolph scored 12 points during a Virginia run that got the Cavaliers to within four, 21-17, but Maggie Morrison found her long-range stroke, hitting four three-pointers in the final six minutes of the period to send the Orange into the locker room at halftime with a 41-23 lead.
Back-to-back three-pointers by freshman Mikayla Venson (Arlington, Va.) helped Virginia outscore Syracuse 11-3 to start the second half, putting the team to within 10, 44-34 with 16 minutes left in the game. A put-back by senior center Imovbioh followed by a pair of free throws from sophomore guard Breyana Mason (Woodbridge, Va.) cut the deficit to single digits, 50-41, with just under 12 minutes remaining, but back-to-back three-pointers from Taylor Ford extended the Syracuse lead back to 58-43 midway through the second half. Syracuse, which went 12-of-22 from the field in the second half, kept the Cavaliers in check the rest of the game to earn its first ACC win of the season and hand Virginia its first loss in conference play.
Virginia shot 34.8 percent (23-of-66) while Syracuse went 26-of-55 (47.3 percent) with 20 assists on the 26 makes. The Orange were 12-of-27 from three-point range while the Cavaliers made seven of 22 attempts. Virginia held a 40-36 rebounding edge.
Virginia returns home next Thursday, Jan. 15, hosting Boston College at 7 p.m.
Single-game ticket prices for all home games are $10 for Reserved seating, $8 for adult General Admission and $6 for youth (18 & under), senior (60 & over) and UVa faculty/staff General Admission. Fans may purchase home game tickets through the Virginia Athletics Ticket Office online at VirginiaSports.com, by phone and in person. The Virginia Athletics Ticket Office is located in Bryant Hall at Scott Stadium and openMonday through Friday from 9 a.m. until 5 p.m. Telephone purchases can be made by calling 1-800-542-UVA1 (8821) or locally at 434-924-UVA1 (8821).