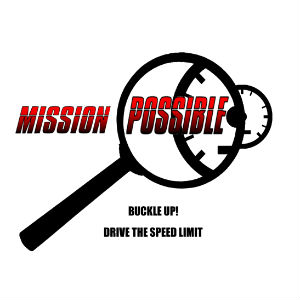 High schools in Amherst and Mecklenburg are among 25 high schools to kick off a statewide safety campaign this week to prevent speeding and increase seat belt use among teens.
The four-week campaign, called MISSION:POSSIBLE. Buckle Up. Drive the Speed Limit, is designed to educate teens about the dangers of speeding and help them develop life-long safe driving habits. It is sponsored by Youth of Virginia Speak Out About Traffic Safety (YOVASO), the Virginia State Police (VSP) and the Virginia DMV Highway Safety Office.
The campaign will be organized by student groups at Bluestone High School and Amherst High School and will use peer-to-peer messaging to influence teens to slow down and buckle up. A variety of educational programs, social media messaging, interactive activities, presentations and other creative ideas will be used to impact the teen audience.  Banners and other visual media imprinted with the message "We Choose to Drive the Speed Limit and Buckle Up" will be displayed on school campuses for students to sign. Students will also be encouraged to use the hash tag #BuckleUpSlowDown on social media to persuade friends and classmates to be safer while driving.
"Our goal with the Mission:Possible campaign is to create a commitment among Virginia teens for safer driving and passenger behaviors," said Mary King, YOVASO program manager. "Speed and lack of seat belt use are top causes of fatal teen crashes in Virginia and our schools and students are a key part in helping to influence a change in these risky behaviors."
According to statistics from the DMV Highway Safety Office, 71 fatal crashes were caused by a teen driver in Virginia in 2014 and 46% were speed related.  Young male drivers ages 15-20 accounted for 82% of the speed-related fatal crashes, with 21% caused by young female drivers.  On a national level, speed accounts for a third (33%) of all fatal crashes involving a teen driver.
In addition, Virginia statistics show that a high percentage of teens killed in crashes in 2014 were not wearing a seat belt. Of the 38 teen drivers killed, 50% were not restrained.  Sixty-three percent of the unrestrained teen driver fatalities were young males. The overall teen statistics, which includes teen drivers and passengers, reflects that 67 teens were killed in 2014 and 43% were not wearing a seat belt.
"We want teens to understand the dangers of exceeding the speed limit and the importance of wearing a seat belt so they can choose to make better decisions," said Casey Taylor, the campaign coordinator for Mission:Possible. "They need to know they are at risk when they choose to ignore the posted speed and not buckle up."
The "MISSION:POSSIBLE" Campaign began this week and will end March 4, 2016. For more information about the "MISSION:POSSIBLE" Campaign or the YOVASO Program, contact Mary King, Program Manager, or Casey Palmer, Program Development Coordinator, at 540-375-3596 or visit the website at www.yovaso.org.   YOVASO has been in existence since 2001 and membership is open to all Virginia high schools and middle schools.  YOVASO is a program of the Virginia State Police and currently has 130 member schools.