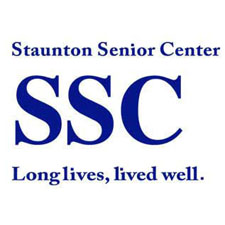 Last Thursday afternoon furniture was shuffled around in the Staunton Senior Center front room, and the area was transformed into an art studio! The blinds were raised completely for the most light possible. Two round tables were set up and equipped with all the special equipment needed for six enterprising art students who would arrive with much anticipation the next morning. The occasion was the first painting class taught by Mary Jane Engleman to be held at SSC during Center hours!
Mary Jane has been conducting classes at the Center as well as other localities in Staunton, teaching on both the weekends and now during the week. Her next class during Center hours will be on Friday, May 31, and will feature a beach scene. Two SSC members took advantage of this beginners class as well as four people from the local area. Interested and curious folks stopped by occasionally throughout the day to see what was going on and to give these beginning painters much encouragement.
The artists enjoyed lunch in the Activity Room and then headed home at 3:00 after completing their lovely "Garden Gate" paintings on oval wooden plaques ready to be hung in special places! Anyone interested in more information about this exciting opportunity should contact the Staunton Senior Center at 540.886.4634 and ask for Lori.