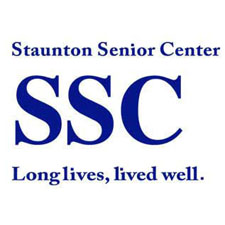 On Thursday, August 28, Staunton Senior Center took its summer trip to Peaks of Otter near Bedford. The city van left Staunton at 9:45 and enjoyed a leisurely trip down Interstate 81 and was soon winding its way up the mountainous road of Rt. 43. All were glad to finally reach the straightness of the Blue Ridge Parkway. These members at last converged with friends that had ridden the SSC county van which was meeting them there.
Members browsed the gift shop for a few moments before being seated for lunch at two tables that had been pre-set for the group. Since the food had been ordered ahead, it was not long before the delicious lunch arrived. After finishing blackberry cobbler, the group boarded the vans again for the short ride to the Sharp Top Mountain Shuttle. The ride up to nearly the top of the mountain was another winding experience! Upon arrival at their destination, a small band of brave members hit the trail with their two van drivers, setting off for the top of the mountain while others lounged in the bus stop dug into hillside, gazed at the spectacular view, and took pictures.
After all were safely back together again and a group photo was snapped, the travelers descended the hill for the return journey home. Many members expressed that they had so much fun they want to return to the Peaks next summer!
More online at www.StauntonSeniorCenter.org.