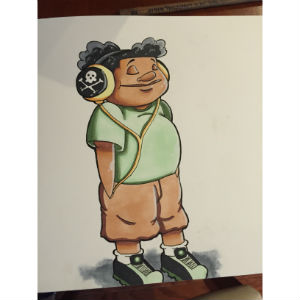 Author Chris Lassiter will release his first children's book, Grits & The Grimels, in early spring of 2016.
Illustrated by Nic Johnson and published by Nyree Press, the book centers around a family that moves into an inner-city neighborhood to be part of a new church. The Grimel family quickly falls in love with a neighborhood kid named Grits, a mischievous pre-teen with a reputation as the funniest kid in the neighborhood.
Lassiter thought a children's book would be a fun way to capture his desire to see healthy churches helping to transform cities.
"It's easy to run away from the problems in the inner-city," said Lassiter, who did campus ministry at his old high school for 13 years. "But what we see in the gospel is a God that ran to and not away from the brokenness in the world. In doing that, I think He set the example for the church as far as what her mission should be."
While the book is theological, Lassiter was careful not to compromise the fun and the magic that categorize the children's literature genre.
"I have five kids," Lassiter said. "I would just think about how to tell the story in a way that would make my kids want to read it over and over."
As part of that fun, each book in the series includes some sort of grits recipe.
Grits & The Grimels is Lassiter's second book. His first book, You're Grounded, was printed and released by Moody Publications on July 1, 2013.
A March 8 release date has been targeted for the children's book, but the date isn't official. The @Gritsbook Twitter and GritsAndTheGrimels Instragram social media pages will have updates on the book.
Lassiter is an author and a freelance journalist. He worked at the News Leader as a reporter for 15 years, and he's written faith and culture articles for VIBE, Rapzilla, Jam The Hype and Young Life Relationships.
Johnson is an illustrator and a student-athlete at Elon College.
Nyree Press was founded in 2011 when founder Kennisha Hill transitioned her writing firm into a full-service publishing company to provide all the essential services writers need to begin their journey as published authors.