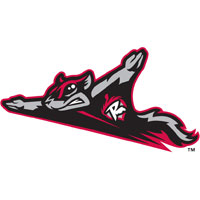 Left-hander Kelvin Marte guided the Richmond Flying Squirrels (35-29) to a, 1-0, shutout win over the New Britain Rock Cats (37-29) at The Diamond on Friday night.  The Squirrels returned to a high-water mark of six games over .500 with the win.  The victory was the first for Richmond against New Britain, having dropped the first six games of the season-series.
Left-hander Ryan Carpenter held the Squirrels without a hit through the first four innings.  However, they struck first when Mitch Delfino triggered things in the fifth with a two-out double to left-center field.  Engel Beltre followed and lined a single to right field.  Delfino raced in with the only run in the ballgame.
Meanhile, Marte (6-0) was cruising.  He worked six brisk scoreless innings, allowing just two hits – both singles.  He walked three and struck out a career-high eight.  He remained unbeaten, earning his sixth win.
Carpenter (4-6) also worked six innings.  He allowed just the lone run on two hits, walked one and struck out three.  He was saddled with a hard-luck loss, his sixth.
Right-hander Jose Casilla recorded the first two outs of the seventh before departing after an awkward delivery to Jayson Langfels.  Righty Tyler Mizenko cleaned up the inning for him.  In fact, Mizenko cleaned up the entire ballgame, finishing it off without incident to earn his first save of the season.
The Squirrels and Rock Cats will play a double-header on Saturday night at The Diamond.  The double-header will consist of two seven-inning games and will begin at 5:05 p.m.  Richmond will send LHP Matt Lujan (5-4, 4.22) in game one and RHP Edwin Quirarte (0-0, 4.87).  New Britain will counter with RHP Bryan Evans (3-2, 3.10) in game one and RHP Ryan Arrowood (0-1, 23.14) in game two.  The Flying Squirrels Pregame Warmup will begin at4:35 p.m. on Fox Sports 910 and FoxSportsRichmond.com.