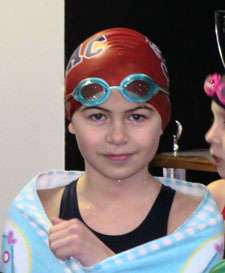 The Shenandoah Marlins Aquatic Club, which practices at the Waynesboro Y, competed in the Virginia Swimming District Championships in Roanoke Virginia Feb. 17-19.
The meet was open to all swimmers in the Southwest District in Virginia. The meet is geared for younger swimmers (14 and under) and swimmers who are trying to obtain qualifying times to be eligible to compete in the Regional Meet the following weekend or the State Championship Meet in early March. 
The following 32 SMAC swimmers participated in the meet:  Chris Carmagnola (12), Mackenzie Carter (12), Maya Chatterson (8), Nate Chatterson (6), Hailey Cook (11), Megan Cross (6), Alice Elkins (8), Braelin Fauber (10), McKinna Fitgerald (12), Miles Fitzgerald (8),  Margo Flanders (11), Grace Hardiman (9), Emma Hill (11), Sydney Hill (6), Caleb Johnson (11), Ethan Johnson (10), Sarah Loomis (12), Ashley Painter (8), Abby Prucha (6), Ben Prucha (9), John Prucha (8),  Clara Riggan (9),  Maggie Riggan (13), Tate Snyder (11), Elizabeth Terrell (13), Evelyn Wade (9), Kaleb Wade (11),  Nick Wade (14), Keelin Wolfe (14), Ben Young (8), Libby Young (11) and Luke Young (9).
SMAC swimmers hit the water fast in the 500 freestyle Friday night as Braelin Fauber (10) and Keelin Wolfe (14) both broke meet records and placed first in their respective age groups.  Libby Young (11) won the girls 11/12 500 free while dropping over 40 seconds and Tate Snyder (11) came in second in the boys 11/12 500 free dropping over 25 seconds.  Setting records and winning events the first night of the meet set the stage for the remainder of the weekend for the SMAC contingent of swimmers.  It also showed that the hard work in practice throughout the season was paying off for everyone.
SMAC had best times in 118 of their 150 races, an incredible 79 percent. Those swimmers with best times in all of their races were: Carmagnola, Carter, Maya Chatterson, McKinna Fitgerald, Caleb Johnson, Ethan Johnson, Loomis, Abby Prucha, Ben Prucha, Clara Riggan, Maggie Riggan, Snyder, Terrell and Nick Wade.   Most of these swimmers swam six or seven races, and to drop time in every single race is testament to the improvement made this season.
Other highlights of the meet included Fauber recording a AA time standard in the 50 fly, Chatterson winning 1st place (girls 8 & under: 25 fly and 25 back), C. Johnson – 1st place (boys 11/12: 100 IM),  Loomis – 1st place (girls 11/12: 200 IM), M. Riggan – 1st place (girls 13/14: 100 back), Terrell – 1st Place (girls 13/14: 50 free & 200 free), Wolfe – 1st place (girls 13/14: 500 free) and L. Young – 1st place (girls 11/12: 500 free).
Chatterson continued her assault on all of the SMAC team records by breaking five during the meet.  She set new team records in the 25 free, 25 back, 25 fly, 100 IM and 100 free.  She now holds all of the girls 8 and under records except in the breastrokes.
SMAC swimmers are now tuning up and tapering for the Virginia Swimming regional and state championship meets.  These meets will be a chance for the swimmers to compete against the best swimmers in Virginia and see how they rank amongst their peers.  The meets will conclude the short course season (meets swam in 25 yard pools) for all of the swimmers except those that can qualify for the National level meets.
For more information regarding SMAC swimming contact Coach Norm Wright, Director of Competitive Swimming at the Waynesboro Y at 942-5107 or email him at [email protected].
For more information about SMAC, please visit their website: www.smacswimming.org.