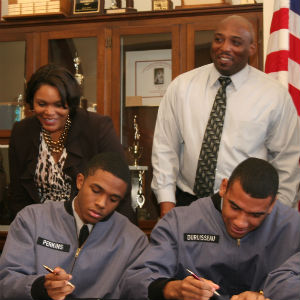 National Signing Day is becoming a tradition at Fishburne Military School.
"This is actually the most important day that we'll have this year on campus," said FMS postgrad basketball coach Ed Huckaby at a ceremony Wednesday featuring seven signings.
The highest-profile signee is Devenir Duruisseau, a 6'9" power forward from Los Angeles who signed with the University of Washington.
Also signing a letter of commitment on Wednesday was 6'9" forward Ellis Dozier of Sandy Spring, Md., who signed with Ohio U.
"They have a really good coach there in Saul Phillips. He's made great tournament runs twice at North Dakota State. He really develops his players well, so I trust him with my development," Dozier said.
Jeremy Harris, a 6'7" swingman from Greensboro, signed with Coastal Carolina, the 2014 Big South champ that gave #1 seed Virginia everything it could handle in the NCAA Tournament. Marcellis Perkins, a top point guard from Chesapeake who is on the mend after suffering a serious knee injury in training camp, is headed to Holy Cross.
Rounding out the signees are Pernell Adgei, a 6'7" forward from Dumfries, Va., headed to Loyola (Ill.), Stanley Christian, a 6'7" forward from Norfolk who signed with Rio Grande, and Ahmad Frost, a 6'1" point guard from Cincinnati on his way to Maryland-Eastern Shore.
Fishburne superintendent Col. gary morrison praised the signees at the Signing Day event for their efforts both on and off the court.
"Those of us who have gone here are very protective of the name, and very protective of this uniform," Mprrison said. "Anybody who wears it represents us, so we always want to make sure that those students who come in here, wear the uniform and then go off into the world as Fishburne grads represent us well.
"I must say that this PG class is the best that we've seen since the program started," Morrison said.
First-year FMS assistant coach Donte Hill, a former Clemson player who transferred to Old Dominion before playing a season of pro ball overseas, was able to reminisce a bit. Hill, a 2013 ODU grad, isn't that far removed from his own Signing Day, which he conceded "wasn't as big as this one."
"It's definitely nice to see the guys, the emotions that go along with it. They've earned it, being able to sit in that chair. It's nice to see," Hill said.
For Huckaby, a former Division 1 and pro basketball player who has also coached at the D1 level, the free ride the players will get toward a college degree is the biggest reward.
"We have a lot of guys sign scholarships. The scholarships are determining their futures. Not just the next four years, but the next 40, 50 years. I'm really excited. I'm looking forward to seeing these guys grow and mature as they leave Fishburne," Huckaby said.
– Story by Chris Graham