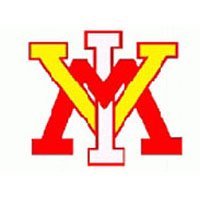 Sophomore wide receiver Aaron Sanders (Stafford, Va.) caught four passes for 96 yards and two touchdowns to highlight VMI's first preseason scrimmage Tuesday afternoon at Fiorini Field in Lexington.
The 105-play scrimmage under surprisingly sunny skies was moved to the Keydet all-weather turf practice facility after three days of steady rain rendered the Foster Stadium too soggy.
VMI redshirt sophomore quarterback Hayden Alford and redshirt freshman Al Cobb, both dueling for the starting QB job, turned in similar numbers statistically. Alford completed seven of 18 passes for 156 yards and two touchdowns while Cobb connected on 12 of 18 passes for 164 yards and two touchdowns.
Sanders, who has looked strong all preseason camp, hauled in a 65-yard score from Alford on the second offensive possession. That was followed on the very next play by a 65-yard scoring strike from Cobb to redshirt sophomore Darrian Johnson.
The defense stymied the offense the next three possessions highlighted by a fumble recovery from redshirt sophomore Joe Nelson forced by junior defensive back Doug Moore.
The offense, keyed by the two long scoring plays, rolled up 225 yards passing and 120 yards rushing before the halftime break.
Defensively, the unit on the day generated seven tackles-for-loss including three sacks.
Senior cornerback James Fruehan had six tackles and two pass break-ups and junior inside linebacker Caleb Lindsey posted five tackles including a sack and tackle for loss to lead the defense.
Senior running back Jabari Turner led all ground gainers with 43 yards on 10 carries including touchdown runs of 1 and 26 yards. Sophomore Taylor Stout added 42 yards on eight carries.
Sophomore placekicker Dillon Christopher successfully converted field goals of 47, 37, and 27 yards during the scrimmage. The 27-yarder capped a successful two-minute drill and came with :06 seconds on the scrimmage clock to conclude the workout.
Redshirt junior running back Derrick Ziglar and sophomore wide receiver Sam Patterson were held out of the scrimmage due to injury.
VMI will hold another scrimmage on Monday, August 18 at Foster Stadium.
The Keydets open the season August 30 at Bucknell.
VMI Head Coach Sparky Woods – "I thought it was a good tough, hot, practice. We went right at it with 100 plays and worked some two-minute and conditioning at the end. It was a tough physical practice for us. A lot of contact – everybody got to play and got involved and saw some good plays. Also saw some catastrophic plays that could hurt us. We were able to kick some. We'll be able to start to make some decisions on where some people could go.  I think we'll benefit from today's workout as we get into the season. It looks like we were able to get out of the scrimmage without anyone really getting hurt.
It will be good to get Sam Patterson back and help that receivers corps a little bit. I thought both quarterbacks did well, both Hayden (Alford) and Al (Cobb). And Ryan Swingle made some good plays.  I saw some backs made a good run both Jabari Turner and Deon Watts. Defensively, our line was in the backfield a lot. It's hard to block them. Ryan Francis showed up a lot on defense.  Dillon (Christopher) I think is a stronger kicker this year."