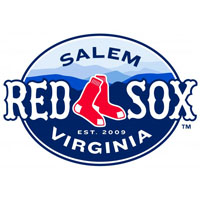 Jonathan Dziedzic remained perfect into the fifth and struck out eight Red Sox in seven superb innings to lead Wilmington to the winner's circle on Tuesday night, downing Salem 4-1 at Frawley Stadium. The Blue Rocks southpaw improved to 4-2 on the year by throwing plenty of strikes, dealing 62 of his 94 pitches in the zone. Mark Peterson emerged to bring Wilmington across the finish line, earning his seventh save by dealing two scoreless out of the pen.
Salem's Cody Kukuk appeared ready to duel with Dziedzic, tossing two scoreless innings at the outset. But in the last of the third, Kukuk lost his command, walked three and permitted three runs. A crucial dropped fly ball by Aneury Tavarez in left-center hurt Kukuk's chances of escaping the inning, and the error helped create a pair of unearned runs, with Jack Lopez driving in one with an RBI single to give the Blue Rocks a 3-0 lead.
From there, Dziedzic looked like a lefty on cruise control. He retired the first 14 batters of the game before Kevin Heller singled with two outs in the fifth to break up the perfection. Shortly thereafter, Heller was erased by a pick-off at first base.
In the sixth, the Sox finally mustered something resembling a rally, with Dreily Guerrero, Matty Johnson, and Ryan Dent drilling three consecutive two-out singles. The latter drove in the former to give their Red Sox their first, and ultimately, their only run. Dziedzic dominated in his final frame on the hill, striking out three in a row in the seventh to finish his seven-inning showcase.
In the top of the ninth, Salem used a walk and a single to bring the tying run to the plate, and Carson Blair launched a deep fly ball to left. But Blue Rocks left fielder Terrance Gore hauled it in on the warning track to end the game, stranding the two runners and handing the Red Sox their fourth consecutive loss.
Kukuk suffered the loss, allowing three runs (one earned) on three hits and three walks over two and two-thirds innings. In relief, Madison Younginer stabilized the Sox, dealing three and a third scoreless innings out of the bullpen. Kyle Martin pitched the final two frames, yielding one run, which ended his streak of five consecutive scoreless outings.
Salem hopes to avoid being swept by winning Wednesday's series finale in Wilmington, with Luis Diaz scheduled to start against Christian Binford. First pitch slated for 6:35.