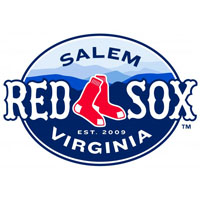 The Salem Red Sox took a 4-0 lead after five and a half innings and held on the rest of the way for a 4-3 victory over the Myrtle Beach Pelicans at TicketReturn.com Field Friday night. Myrtle Beach scratched a run in the sixth and two in the eighth, but Kyle Martin held off the Pelicans for his eighth save.
Jacob Dahlstrand picked up the win in his first Carolina League start. Dahlstrand put together five and a third strong innings, allowing just a run on four hits, striking out four. Jose Monegro took the loss out of the bullpen for Myrtle Beach. Monegro surrendered eight hits and four runs in three innings out of the pen. Sam Wolff went three innings in his start for the Birds, throwing three scoreless innings. Kyle Martin finished off the Pelicans, lasting three and a third, allowing five hits and two runs.
The game was scoreless until the fifth. Sox number eight hitter Jordan Weems led off with a single off Monegro, followed by a single by Matty Johnson. Salem eventually had runners on second and third with one out. Monegro surrendered back to back RBI singles by Mike Miller and Jantzen Witte brought in both runners to give the Sox a 2-0 edge.
Salem struck for two more in the sixth, again thanks to its eight and nine hitters. After Jordan Weems doubled with two outs, Matty Johnson launched his third home run of the season to give the Sox a 4-0 lead.
But Myrtle Beach slowly chipped away at the lead. In the sixth, Chris Garia singled off Dahlstrand with one out. After a two out walk to Beck, Royce Bolinger singled in Garia to cut the lead to 4-1. Dahlstrand then walked Nick Williams to load the bases with two outs. Kyle Martin came in and got Lewis Brinson to fly out to right to escape the jam.
The Pelicans added two in the eighth. Garia led off with a single and immediately stole second. He scored a batter later on a single by Jorge Alfaro to cut the lead to 4-2. After Martin induced a pop-out by Preston Beck, Bolinger tripled to right field to score Alfaro and cut the lead to just one. But Martin struck out Williams and got Brinson to ground out to strand the tying run at third. The Pelicans did get a runner to second in the ninth, but a strikeout and groundout preserved the Sox one run victory.
Salem and Myrtle Beach return to TicketReturn.com Field tomorrow for game two of the three game set. First pitch is scheduled for 7:05. Pat Light is scheduled to start for the Sox. Chad Bell is on the bump for the Pelicans.