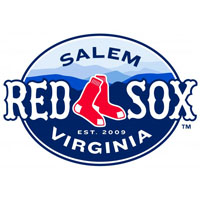 Everything went Salem's way 
on Friday
 night at LewisGale Field, as the Sox smashed the  Hillcats 10-0 to complete the series sweep over Lynchburg.
Brian Johnson
dealt six brilliant innings, the bats erupted for plenty of early offense, and the Sox won for the seventh time in their last eight games.
Johnson struck out eight Hillcats and only allowed four hits in his 80-pitch performance, lowering his
ERA
from 5.03 to 3.86 with six scoreless innings. In relief,
Kyle Martin
retired nine of the 10
men
he faced to secure the save, striking out three en route to the finish line.
Meanwhile, the Sox struck early off Hillcats starter Patrick Scoggin, battering the former Hokie for two runs in the first before knocking him out of the game with nobody out in the second. Scoggin retired only three of the 10
men
he faced, surrendering five runs (three earned) on three hits and four walks in his one-plus inning on the hill. By the end of the second frame, the
Red Sox
led 8-0, with David Chester, Reed Gragnani, Matt Gedman, and
Mario Martinez
all driving in two runs apiece.
Martinez cracked his first homer of the season to lead off the six-run second, and he delivered an
RBI
single to drive in the final run of the frame. Gedman smacked a bases-loaded single, plating a pair in his first game back in the lineup following a nine-day absence.
Salem scored its final two runs in the last of the sixth, when Gragnani drilled a triple into the right-field corner, scoring Jonathan Roof. When the relay throw toward third got away, Gragnani trotted home to score Salem's 10th and final run.
The shutout victory was Salem's fourth of the season, most in the
carolina league
.
Salem's week-long homestand continues 
on Saturday
 night, with the Winston-
Salem Dash
rolling into town. The Sox, already 5-2 in seven meetings against the Dash this season, look to sustain the momentum with
William Cuevas
on the mound opposite
Mike Recchia
. First pitch is slated for 
6:05
.