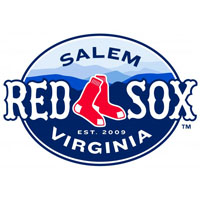 Jonathan Roof
and
Kevin Heller
each recorded three hits and three RBI,
Corey Littrell
authored his third quality
start
in five outings, and the
Salem Red Sox
survived Winston's late rally to surpass the Dash 11-8 
on Monday
 evening at LewisGale Field. Delayed by
rain
for 73 minutes at the outset, the Sox were quickly down 2-0 in the top of the first, but then scored nine straight runs and eventually built an 11-3 lead. In the top of the ninth, the Dash had the tying run at the plate with two outs, but
Grant Buckner
grounded into a fielder's choice to wrap up the long night at the ballpark.
Littrell struck out seven in six strong innings, permitting three runs on just three hits to earn the win and improve to 2-1. After the Dash plated a pair in the first, Winston did not score again until Jason Coats jacked a solo homer with two outs in the sixth.
The Sox offense took advantage of a Winston miscue to break the seal in the bottom of the first, but it was a big third inning that swayed the momentum to Salem. Down 2-1,
Mario Martinez
reached on an error to
start
the third. After the next two hitters made outs, the following six Salem batters reached base. Roof blasted a three-run homer, while Reed Gragnani hammered an
RBI
triple.
Aneury Tavarez
also smacked an
RBI
single to complete the scoring in the third.
Salem added two more in the fourth, with
Tim Roberson
launching a two-run double to the gap in left-center. Up 8-2, the score became 9-2 when Heller crushed a solo homer to lead off the
fifth
. Coats' solo shot in response made it 9-3, but Heller retaliated with a two-run double in the last of the sixth, stretching the lead to eight.
Winston gradually crept back into contention, with one in the seventh, two more in the eighth, and two in the ninth, but the most notable
event
of the late innings came before the eighth inning began. As Dash outfielder
Courtney Hawkins
was preparing to lead off, he began jawing with Salem catcher
Jayson Hernandez
. Hawkins shoved Hernandez and was immediately ejected by home plate umpire
Travis Godec
. The benches and bullpens cleared, but calmer heads prevailed and the emotion fizzled quickly with no one other than Hawkins receiving an early exit.
Roof and Heller led the Sox offense with three hits apiece, including the first homer of the season for each. Coats led Winston with four hits and five RBI, including his first round-tripper of 2014 as well.
The Sox will seek a split of the four-game series 
on Tuesday
 night, with
Pat Light
scheduled to
start
opposite
Tony Bucciferro
. First pitch is slated for 
7:05
.