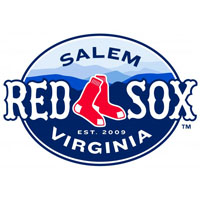 Luis Diaz picked up his second straight win by dealing seven superb innings, paving the way to a 3-2 Salem Red Sox victory on Wednesday night in Wilmington. Diaz improved to 4-3 on the year with an 86 pitch, 61 strike performance, and Salem mustered just enough offense to sneak away with a triumph and avoid being swept in three straight at Frawley Stadium.
Diaz became the first Salem starter to complete seven innings in 2014 with his strong effort, striking out six and walking nobody. He scattered four hits and allowed two runs, shrinking his ERA to 3.57. In relief, Austin Maddox picked up his first save of the season, retiring six of the seven men he faced in two innings out of the bullpen.
Offensively, the Sox broke through in the third inning against Wilmington starter Christian Binford. Matty Johnson, Jonathan Roof, and Reed Gragnani all collected one-out singles, with Roof and Mario Martinez each registering an RBI in the two-run frame.
One inning later, an unearned run helped the Sox increase the lead to three, as Aneury Tavarez reached on a deep line drive to right field that deflected over the glove of Johermyn Chavez. Ruled an error, Tavarez ended up at third and scored on Kevin Mager's RBI single. After the fourth inning, the Sox only recorded one more hit the rest of the night, but the pitching remained stout enough to prevail.
Gragnani and Martinez each went 2-for-4 to the lead the Sox, who outhit the Rocks 7-5. Salem's power drought continued, with all seven hits going as singles. The Red Sox have collected only six extra-base hits in their last six games.
Salem continues its road trip on Thursday night at Carolina, with the first pitch scheduled for 7 PM. Corey Littrell will make the start for the Sox, while Michael Peoples takes the ball for the Cats.