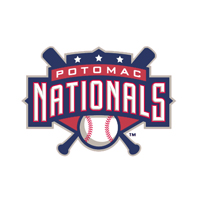 The Potomac Nationals (50-42, 12-11) were swept by the Wilmington Blue Rocks (45-47, 12-12) in two seven-inning games on Wednesday night. Wilmington took the first game 6-1 and followed up that win with a 6-2 victory in Game Two. 1B Mark Threlkeld blasted a solo home run in each game of the twin bill.
The story in Game One was a matter of one inning for the Blue Rocks. Wilmington exploded for five runs in the top of the fifth off RHP Pedro Encarnacion (L, 1-3). RF Daniel Rockett supplied an RBI-triple, which was followed up by a LF Terrence Gore RBI-hit and SS Raul Mondesi run-scoring double.
LHP Brandon Finnegan set down all six batters he faced in his second professional start for Wilmington. RHP Johnny Walter (W, 5-1) allowed a run over 3.1 innings while striking out four. The run came in the bottom of the third inning on a Walter wild pitch that plated 3B Khayyan Norfork.
Each team left just three runners on base in Game One. Starter RHP Brian Rauh allowed the home run to Threlkeld but no other runs over his three innings.
Game Two was all Wilmington as they put on a home run derby of their own. C Zane Evans two-RBI single in the fourth gave Wilmington a 2-0 lead. 3B Jared Schlehuber and Rockett went back-to-back in the fifth inning with solo bombs to extend their lead to 4-0. DH Michael Antonio and Threlkeld tacked on some insurance in the sixth and seventh respectively with solo home runs of their own.
LHP Sean Manaea was pulled after 4.2 innings after walking four batters in the fifth to score one of Potomac's two runs. Manaea allowed a solitary hit and struck out five in his starting effort. RHP Yender Caramo (W, 3-5) came in for the win and RHP Mark Peterson (Sv, 19) shut the door in the seventh. RHP Blake Schwartz (L, 2-1) took the loss for Potomac.
Potomac threatened a comeback in the final frame when DH Mike McQuillan, RF Estarlin Martinez and C Craig Manuel led things off with three straight singles. Peterson then came in and struck out CF Cody Dent followed by a game-ending double play off the bat of 2B Tony Renda.
Over the course of both games, three combined balks were called on the Blue Rocks' and Nationals' pitchers.
The Potomac Nationals Baseball Network, which is accessible at www.potomacnationals.com, will broadcast the third and fourth game of a five game series against Wilmington on Thursday, July 17th. Broadcast coverage will begin with the P-Nats Leadoff Show at 5:45pm in preparation for the 6:00pm start of Game One. The first game is a resumption of the suspended game from July 10th where the score is 1-1 in the bottom of the sixth inning (of seven). Game two will start at approximately 7:05. The P-Nats are TBA for Game One and will send RHP Dakota Bacus (3-4, 3.71) to the mound for the nine-inning Game Two. Wilmington has LHP Kyle Bartsch (5-3, 2.94) currently in the game for Game One and RHP Glenn Sparkman (5-2, 1.43) will go in the second game.