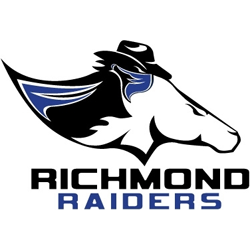 The Richmond Raiders will face a 2013 league champion for the second straight week when they host the Harrisburg Stampede Saturday night. Both teams sport 1-2 records, making this first of three regular season meetings an important battle in the National Conference standings.
The game will be on Community Impact Night sponsored by MWV. Ticket and concession specials are available, adding to the fan experience; and if the game is anything like last week's thriller, everyone will be on the edge of their seats until the final whistle. Kickoff is at 7:00 pm this Saturday, April 19, at the Richmond Coliseum.
Last week the Raiders used a 20-0 fourth quarter, including defensive and special teams touchdowns, to defeat last season's PIFL champion Alabama Hammers 38-35. Malik Cromartie returned the first of three straight interceptions for a touchdown, and Torez Jones took back a missed field goal for the game winning score with 29 seconds left. Jones earned PIFL Vidswap.com Special Teams Player of the Week honors for his efforts. The Raiders' defense made several big plays, including three sacks by Devin Jones and clock-stopping negative plays in the final minute to force the deciding field goal attempt. Herb Jones and Hakeem Moore each had highlight reel touchdown receptions – Jones' around a defender's back, and Moore's off of his own helmet.
The Stampede won their league's championship last season before joining the PIFL during the offseason. They opened with a 19 point win over Columbus, but have dropped their last two games to Nashville and Lehigh Valley. Last week against the SteelHawks, Harrisburg jumped out to a 20-8 halftime lead on the strength of two interceptions. Like the Raiders, the SteelHawks returned a missed field goal for a touchdown, and they picked off Stampede QB E.J. Nemeth four times in the second half, rallying for a 35-27 win.
Scorpio Brown and Collis Martin lead the Stampede wide receiver corps, with former Raider Chris Schubert adding depth. Harrisburg leads the league in total offense with over 300 yards per game. Their defense, led by Armar Watson and Travis Proctor, is one of just two in the league holding opponents under 100.0 pass efficiency. The Raiders and Stampede played three times from 2010 to 2011, and the Stampede hold a 2-1 edge in the series.
Saturday's matchup will be on Community Impact Night, with special recognition for the Special Olympics. The game is sponsored by MWV, a global packaging solutions provider. The brand new Fan Zone and Kids Zone on the concourse will offer entertainment, games, contests, and prizes for fans of all ages. Tickets are available in a buy 2, get 1 free package, as well as a family 4-pack which includes tickets, hot dogs, popcorn, and soft drinks all for one low price.
Doors open at 5:30, so get to the Coliseum early for all the fun!
Tickets start as low as $7, and are available on the Raiders' website, www.RichmondRaidersProFootball.com, or by calling 1-855-GO-RAIDERS or 804-780-0430. Additionally, fans can contact the Richmond Coliseum box office or visit ticketmaster.com.