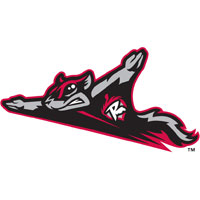 The Richmond Flying Squirrels (71-58) claimed a, 5-3, victory over the New Britain Rock Cats (64-64) as the two teams completed a suspended game from May 22nd at The Diamond on Tuesday night.
However, the Rock Cats turned the tables and prevailed in a seven-inning ballgame, 5-1, technically extending Richmond's losing streak to four games.  Richmond's magic number to clinch a playoff berth stands at nine as Bowie extended their win-streak to five games.
Resumption of Game from May 22nd – The Rock Cats had the benefit of starting with Reynaldo Rodriguez at first base with nobody out in the bottom of the second inning as the game resumed.  They quickly cashed in that advantage against lefty Adalberto Mejia.  On the first pitch of the re-start, Rodriguez stole second base.  Levi Michael then doubled to right field to put two runners in scoring position with nobody out.  Tony Thomas then grounded a ball that hopped right through the legs of Richmond shortstop Kelby Tomlinson.  Rodriguez scored on the error for a 1-0 lead.  The run was earned and charged to Kyle Crick, who had started the game at New Britain Stadium.
The Squirrels took control of the game with four runs against right-hander Cole Johnson in the fourth inning.  Johnson issued a one-out walk to Blake Miller to start his own problems.  An out later, Elliott Blair singled.  Johnson issued a second walk to Eliezer Zambrano to load the bases.  Tomlinson then cracked a three-run triple to left field for a 3-0 lead.  Johnson's next pitch was wild, allowing Tomlinson to score for a 4-1 advantage.
Johnson (2-8) worked three innings and was charged with four earned runs on three hits.  He walked three, struck out two and endured his eighth loss of the season.
New Britain pulled back into the game in the seventh inning.  Following singles from Levi Michael and Jorge Polanco, Kyle Knudson cranked a two-run double through the alley in left-center field.
Mejia (6-7) rebounded to work six innings and earn the win.  He was charged with two runs on seven hits.  He walked none and struck out seven.
The Squirrels scored an insurance run on a wild-pitch from right-hander Adrian Salcedo in the eighth inning.
Right-handers Jose Casilla and Hunter Strickland had no trouble finishing the win.  Casilla worked a perfect eighth inning and Strickland retired the side in order to earn his eighth save of the season.
Game Two: The Rock Cats jumped on top against lefty Ryan Bradley in the second inning.  Polanco sparked the uprising with a single.  A batter later, Tony Thomas and Matt Koch collected back-to-back singles.  Koch's single knocked in Polanco for a 1-0 lead.
New Britain tacked on a run against Bradley in the fourth.  With two outs, Thomas chopped a ball in front of the plate.  Bradley, threw errantly to first base on the infield-single, allowing Thomas to second base.  Bradley then uncorked consecutive wild pitches to allow Thomas to score for a  2-0 lead.
Meanwhile, New Britain righty Jason Adam worked four scoreless innings.  He allowed just four hits, walked one and struck out two.  He left with the lead, but was ineligible for the win.
Another wild pitch from Bradley made it 3-0 for New Britain in the fifth inning.  The wild pitch followed a triple from Rodriguez off the left-field wall.
Bradley (0-1) took the loss over five innings.  He conceded three runs on eight hits, walked two, hit another and struck out four.
New Britain padded their lead with a run against right-hander Carlos Alvarado in the sixth inning.  Alavrado permitted three singles in the frame, with Nate Hanson knocking in Koch.
The Rock Cats capped their scoring with an unearned run off lefty Phil McCormick in the seventh.  The Squirrels avoided the shutout in the bottom of the seventh inning.  Miller singled back through the middle to score Tomlinson, who had also singled.
Right-hander and former Squirrels' closer Dan Turpen (4-2) earned the win in relief, working 1 1/3 innings behind Adam.
Game two of the three-game series is scheduled for 7:05 p.m. at The Diamond on Wednesday night.  Richmond LHP Jack Snodgrass (10-5, 3.45) will make the start against New Britain LHP Taylor Rogers (9-6, 3.64).  The Flying Squirrels Pregame Warmup will begin at 6:35 p.m. on Sports Radio 910 and SportsRadio910.com.