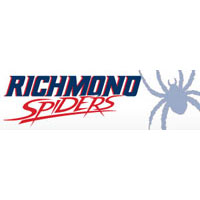 Junior ShawnDre' Jones and senior Terry Allen both had 20-plus point performances, but it wasn't enough as Richmond dropped a 77-73 heartbreaker to the Saint Joseph's Hawks in the Atlantic 10 opener for both teams on Saturday afternoon.
Jones led all scorers with 22 points on 8-of-17 shooting, while also dishing out three assists and grabbing five rebounds. Allen, who reached 20-plus for the seventh time this year, finished with 21 points and eight rebounds. The senior has now scored in double-figures in 23 straight games, the longest active streak in the Atlantic 10.
"I thought that was a great college basketball game," head coach Chris Mooney said. "It was well-played and very competitive. ShawnDre' Jones was tremendous today. We've had some great guards do some great things in this program, and today was as gutty and good of a performance from a Richmond guard since I've been here."
Redshirt freshman Khwan Fore finished with 14 points, his third straight career-high performance, while T.J. Cline chipped in 13 points and tied his career high with seven assists on the afternoon.
It was the eighth game this year that the Spiders had four or more players in double figures.
Both teams shot around 45 percent from the field and assists and turnovers were nearly even. Richmond had a 32-20 edge in points in the paint, but SJU hit 11 three-pointers.
For the Hawks, DeAndre Bembry and Isaiah Miles combined for 33 points and 22 rebounds to lead the way. All of Bembry's 16 points came in the second half, including the final five points in the game for SJU.
The Spiders used the arc to take an early lead with Allen and Jones combining for three 3-pointers in the first four minutes of the game to give Richmond a 13-5 advantage.
Saint Joe's responded with a 17-3 run of their own to claim a 22-16 lead, but Jones and Fore combined for 11 of the next 13 points for Richmond to reclaim the lead at 29-27 with seven minutes to play in the first half.
Allen led the way in the final few minutes of the stanza, sparking an 8-2 run that sent the Spiders into the break with a 37-32 cushion.
Early in the second half, Richmond would twice push their lead to nine, but the Hawks wouldn't go away, putting together a 13-3 run to grab a 52-51 lead with just over 13 minutes remaining.
Fore would ignite a Spiders run and his three free throws with 10 minutes remaining gave Richmond a 56-51 advantage.
Once again, Bembry and the Hawks would respond and tie the game at 64 on a three-pointer from the junior and NBA prospect with seven minutes left.
SJU would push their lead to as many as six in the final five minutes, but Jones and Allen would connect on back-to-back buckets to tie the game at 73 with 49 seconds remaining.
Bembry then hit a stepback jumper and clinched it with two free throws to secure the 77-73 win for the Hawks.
Richmond hits the road for its first A-10 road test against one of the preseason favorites, Rhode Island, on Tuesday night. Game time on ESPNU is set for 7 p.m.