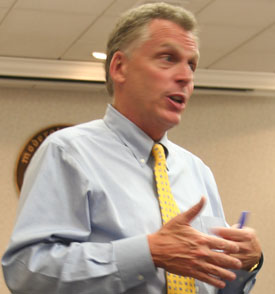 A new Rasmussen Reports survey of Virginia voters has Democrat Terry McAuliffe with a commanding 17-point lead over Republican Ken Cuccinelli in the Virginia governor's race.
Rasmussen had the race at six points in McAuliffe's favor in late September, but as in other polls, McAuliffe's stock rose with the fall of Republicans in the wake of the politically disastrous government shutdown.
McAuliffe is at 50 percent in the latest Rasmussen poll, released on Tuesday, with Cuccinelli at 33 percent, and Libertarian Robert Sarvis a distant third at 8 percent.