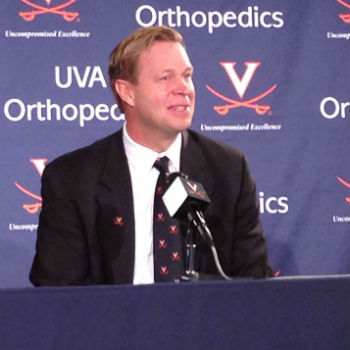 UVA football coach Bronco Mendenhall talks with reporters at his weekly press conference on Monday.
COACH MENDENHALL: Had a chance to watch the film, and our team is getting better with every time we play a game. It's fun to watch the transformation happening. It's steady.
It's methodical. But it is happening. It's fun to be part of something that requires this amount of effort but to see the players fighting and competing so hard and really enjoying the process.
I think our culture is really strong. I think our players enjoy playing the game. I think they enjoy working. I think they enjoy practicing. They see where they're improving.
We were disappointing after the game because we had a great plan and we executed it really, really well for a long time. Within inches here or there, that was really the outcome. But I like the way we played, and I like what we're becoming. I'm excited to see with the weeks we have remaining how good we can get.
It's been fun to measure ourselves against, I think at this point in the season, what two of the better teams in our league look like, and I like the progress we're making. I think what our players are seeing is it really isn't who we're playing, it's how we play doing our jobs specifically and purposefully with a level of, not just ownership, but kind of supreme ownership, which is one of the things we talked about in our program.
When they do that, we have really good results, and if that fades a little bit, then whomever we're playing has a chance to move the ball or stop us or those kinds of things.
I'm encouraged. I'm really enjoying working with this team and watching them grow and progress, and I like seeing them smile even if we don't win.
Q. How does the old DB in you look at Juan Thornhill's position on that last play?
COACH MENDENHALL: I reran it probably 100-plus times, and it's within inches. He turned properly. He had enough leverage. He had enough cushion, and he got outjumped by about half an inch. The receiver pulls it down with one hand and takes two steps, and the ball either bounces off his knee, or he drops it after he goes out of the back of the end zone, but it's as close as you can get.
The fourth down play prior to that was even closer, there's two hands and the ball somehow navigates through the hands. I don't know, if you throw that pass 100 times, how many we knock down and how many they catch, but there's really not much he could have done differently. It was just, again, a matter of inches.
Against a good receiving corps, he was challenged on the day, and he did a lot of really, really good things, and he learned, and he grew. Man, we had a great chance right until the very end.
Q. Bronco, how important was it for you to see the way Kurt (Benkert) bounces back-check check after — he still had a little bit of happy feet, it seemed like, early in the game, but something clicked at some point, and it seemed like he kind of went back to where he'd been.
COACH MENDENHALL: The throw that I'll remember — the two throws that I'll remember most are the fourth down to Keeon (Johnson), which seemed reminiscent of the UConn game, and it was fun to see that. The confidence that it took to throw that ball and where he put it, and then the two-point play. Those are the two statement throws of where he currently is.
Early in the game, yeah, a little bit antsy, but the number of plays in between, positive and a few mistakes, but then to then finish in that regard, he gave us a great chance. So I was encouraged. It's fun to see him emerge out of that kind of place that he was just through resilience and work and through — man, he's been trying so hard. So it was fun to see that happen on that stage against that opponent.
It will pay dividends hopefully this upcoming week and for the next three after.
Q. Bronco, you've said before there's a big difference between close wins and close losses.
COACH MENDENHALL: Sure.
Q. Even though it's just a couple of points. In that perspective, how did you view the game on Saturday, and how do you approach kind of moving forward from it?
COACH MENDENHALL: So I would put the last three games in almost the same category. Winning teams — good teams in the ACC, it looks like, as I'm learning to know the league, but all of those things still come back to the same thing that will determine the win of a close game and the loss, and that is, again, what we're doing in relation to our schemes, our plans, and our execution. Those three things are in common regardless of who we play.
So we saw it versus Pitt, which is a pretty strong team, I think, and capable of playing anyone in our league really, really well and winning more than they're losing. Then we saw it against wherever North Carolina will end up being ranked and whatever quality of team they are. We won't know until there's four more weeks, but currently a top 25 team. And I would say the exact same thing, and now against a current five-ish team and the exact same message.
So what's fun and what a lot of our players are learning is, wait a minute, we actually have a lot of control over outcome. That is the message. This isn't some phantom ghost of Scott Stadium. This isn't tied to some former things. This is simply am I preparing the team well enough, and are they embracing the preparation well enough and at a high enough level to control the outcome? And that's right where we are.
If we move higher on that continuum to really claiming, no matter the circumstances, making the routine play, which have to happen, making the competitive play, which there was a ton of those we made in the game, and then the critical play, and there's only about three or five of those a game, and it takes all of them. That's regardless of what kind of program you're running, and we're getting closer and closer of making more of all three categories, which is where, I think, improvement is coming.
It doesn't mean we've arrived, by any means, but it sure is fun to be battling right to the very end against a good team in a college football game.
Q. Daniel Hamm seems to have very good instincts as a punt returner. Coming out of training camp, was he an easy choice for the starting job, and how do you think he's done?
COACH MENDENHALL: Yeah, last game was his best game, and there were times on the head set where the coaches were saying fair catch it, fair catch it, fair catch it, and then he'd catch it and get ten, and they're saying great decision. So coaches aren't immune to the fandom kind of responses as well.
Daniel was what — the criteria I gave our staff out of fall camp was I want whoever catches it best and most, meaning ball security was first, and whatever else happens after that, I said, is a bonus. But whomever we trust the most, and Daniel was the clear choice with that. He now it just becoming fearless and confident.
I'm really encouraged. Our special teams for two weeks in a row, we're doing some really nice things. Again, I'm watching our team just improve consistently and consecutively in a lot of different areas. That one the last two weeks has taken another really positive turn.
Q. You spoke about Kurt's bounce back, and I'm curious, two other aspects of the game that affect him. On the interceptions, were those Kurt's bad throw decision, or Andre was talking about a miscommunication on a route. What other things went into those?
COACH MENDENHALL: Man, you have to help me. I remember one of them on the far sideline. What was the other.
Q. The other was when you were going into the end zone to your left.
COACH MENDENHALL: And the guy undercut the route. That's right.
So I think they're aggressive plays. While I certainly don't want the interceptions, I'm not going to coach in a manner to have our quarterback be hesitant. So it's imperative that our team plays with confidence and be encouraged to take calculated risks and be confident, and then we learn and grow from them.
I think the biggest difference — no. One of the differences in the game was they returned it to maybe the 12 yard line and were able to punch it in, and I think we returned ours to about the 15 yard line and weren't. So the focus goes to the end of the game because it's most apparent and it's last, but, man, there was a giant swing in there where I think they got seven and we didn't get in. So the rest of the team has to support whatever those outcomes are.
I wouldn't coach him to do it different. His quarterback coach, Coach (Jason) Beck and Coach (Robert) Anae will instruct, I want him to take those throws, and I want him to be aggressive and try to help our team win. That's the mindset I want from a leader and from a quarterback, as I would from Quin (Blanding) and Micah (Kiser) at the key spots on defense.
I can't speak to the lack of communication. The way that I saw it is one was aggressive trying to lace it in there, what we call the hole shot between a low safety and a high safety. And the other, man, a corner undercut a route that was a pretty good play by him. He took a chance, and he was right.
Q. The other aspect is what the offensive line does to protect him. What are you seeing?
COACH MENDENHALL: We're getting better. I think the only sack we gave up was the last play of the game. Pretty elaborate pressure. Some pretty good players coming at him the last few weeks. So I think we're getting better in that aspect. And I think we're targeting better in the run game, which is allowing Smoke — not every run is going right where it's designed, but bodies are on bodies more frequently and enough, to where even when the ball goes to a different gap than where the run was designed, there's still bodies on bodies that allow extra yardage to happen.
So that complement is starting to develop as well. I think you guys can see it as well. There's just a lot of things that look like on the brink of against pretty good teams now starting to be effective.
Q. Bronco, what have you seen from Wake? Last week you were seeing the highest scoring team in the country. They're sort of the other end of the spectrum, but they've found ways to win games.
COACH MENDENHALL: They're managing the game in relation to their strengths. So we took a calculated approach with our plan to be slower in the game. It didn't really affect the number of plays as much as we had anticipated, but I like the tempo of the game, and I think that had some effect on Louisville struggling to get rhythmical — rhythmic? Rhythmical, anyway, in the beginning of the game.
Wake is methodical. They're strong on defense, and they're capable on offense. They manage their team in relation to that. So I think they identified pretty early who they are, and they've been able to win games and manage their team and give them, I think — what I think they're doing is giving them their best chance.
It will be a different type of game, but that's not to say they're not capable of scoring. They're just doing a nice job managing who their team is. So I think they're intentionally doing it like that.
Q. In a lot of cases, a new head coach ends up with a first year class that was put together by the previous coaching staff. You've had nine true freshmen play. A lot of them are making significant contributions. Given particularly that the class was put together under less than ideal circumstances, is it a pretty good class, do you think?
COACH MENDENHALL: The kids that are out there playing, I really, really like. They're great kids, and they're proving to be capable, and they're so hungry and eager, and they've embraced us and vice versa.
There was one time I looked out there, and there were nine of them defensively that were either true first years or their first year playing, and they're optimistic and bright eyed, and sometimes it's a little too fast for them, but other times they make plays, and they're excited, and they're forming their own foundation and their own mindset and their own idea of what we're capable of.
So I think the previous staff, in relation to this class, there was eight that, in one way, shape, or form, are not with us anymore. So that's about a third of the class, which is way too many. But that's — I don't know if that's fairly common, but I think that can be expected somewhat in relation to a new staff. But those that have remained, there's quite a few that you just mentioned that probably didn't expect to play as much as first years, but we think they're capable.
Q. Bronco, considering all the passing offenses you've seen in your career, where does yours rank in terms of sophistication, and how far has it come so far this year?
COACH MENDENHALL: I think our pass game a lot, and in terms of its development, there's kind of three components to that. The protection has come along to where we have more options. Slightly after that now we've become clearer as to the use of personnel and what Keeon can do and what Olamide (Zaccheaus) can do and Doni (Dowling) played a pretty nice game and what he can do. What Smoke (Taquan Mizzell) might be able to do out of the backfield, what Andre (Levrone) might be able to do.
So we're getting a clearer idea. When the protection started to come along about the same time personnel became clearer, which then allowed the schematics start to mature. So we're, in terms of sophistication, we're probably at the beginning of that spectrum. In terms of our usage of personnel and what to do with whom, we're probably in that midpoint. Not yet to the point where, man, the formation manipulations and shifts and motions and all that can be quite as elaborate as what we want to get the exact matchups we want, but we're starting down that road as you'll see different things shift and change. Most of the time, that's to get an exact matchup on an exact route to match a player's skill set.
So that kind of is the next phase of elaboration as we're going down that road.
I think one other point to add to that that would be worth talking about, man, a few key catches here and there, we would have been about 70 percent completion. So we slowed down enough and were deliberate and specific enough. That, to me, is the number that matters most in terms of determining the quality of passing game we have, and those all aren't just short throws, which I think is a good sign.
Q. Not only offensive players, but defensive players, particularly Micah, was thrilled with a little more added rest on Saturday because you guys did huddle on offense. Because you had success with that, is that something that you keep doing? I know it was directed because Louisville runs so fast. You talk about how Wake is methodical as well. How do you match that up this week?
COACH MENDENHALL: There's another component that we thought added some value, and that's as we were working with our quarterback Kurt and give him a chance to be exactly right, in terms of how he's framing the play, it was nice to slow it down just a hair in that regard to address kind of the previous six quarters and just reframe, we set, and go one play at a time. Not this many points, this speed, this many quarters. It's just each play is a new and distinct play. So those two things married nicely, and most likely will be considered strongly going forward.
I can't say definitively on that yet, but I liked the result, and I liked the way that it fit our current team and where we were. It's getting late in the year, and Micah's played every defensive snap the entire year. He hasn't been substituted for yet. So to play as hard as he's playing and as well as he's playing, that's pretty remarkable.
Q. You kept Louisville well under its total offense for the season. You're still giving up 462 yards per game. What does that statistic tell you, and how do you keep it down? How important is that?
COACH MENDENHALL: The yardage is reflective of inconsistency to me. That's how I make sense of it. We're much more inconsistent in coverage right now than we are in run front. We took a significant — we've been taking significant steps forward in the run front and probably since The opener. The coverage — and even though we continue to work on simplicity, its executing at a higher level, but each game there's a matchup here or there, there's a scheme here or there that's all new and different for the first time, and there's some pretty capable players.
The yardage to me is coming in significant chunks, more predominantly in the pass game, and we're not quite as consistent defending that as what we're used to. However, I still see bits and pieces of progress. But there was probably 200 yards worth easily correctible in that game, but they also had some capable receivers — and I'm talking 200 yards correctible just by assignment, execution, and concentration, and there's more of that than we would like per game right now.
So that's the way I would say it. From my vision of dominant defense, which is what I know and love, it's fun to be moving in that direction, but it's also challenging to get the number of pieces, with the experience we have and the opponents we're playing, to all come together at the same time.
Q. Andrew Brown was in here before —
COACH MENDENHALL: I bet that was entertaining.
Q. He was. He just seems like a happy, laid back, soft-spoken — not what you would expect a ferocious defensive end to be. What's he been like — because, obviously, when you got here, he was kind of wounded by how he didn't play much.
COACH MENDENHALL: Yeah, that's kind of a tender spot for me. He's maturing, and he's trying really hard, and he's transforming kind of right before our eyes into a more mature, more capable, more trustworthy, more responsible person and player all at the same time, and he's enjoying it.
There have been times where I've told him less drama, more work. I probably said it maybe to him more frequently than any other player at the beginning of our time here as he was in a pretty fragile spot, and I can't speak to that. I'm just saying what I saw when I arrived. And Tim Harris was in a similar spot. But to see their confidence and maturity grow and their smiles come and see how more consistently he's working, day in and day out, it's really rewarding. He's a good player.
Still on given plays, he'll do things where I'm wondering where he's going and what's he doing, but now more often he's doing it how he's supposed to do it, and that's he's putting a string together, and a season together that, much like our team, it was kind of wild and aggressive and someplace different mentally than where it is now, and he's starting to look like a really good college football player.
Q. Two years ago Notre Dame did it, Florida State is doing it this year. This all access television thing where they grant — is that something you would ever entertain doing with your program, and what would the benefits of doing that be?
COACH MENDENHALL: I did it at BYU. Man, probably won't ever do it again. I think the benefit — the intent, as an independent, was in a program that had our own ESPN contract, and we had tons of viewership, but to really tell a story authentically and from the inside out rather than wait for it to be reported on in a limited view from outside in. I thought that would be a great thing for our program and would promote understanding and education. I thought the viewership would just go off the chart, and there would just be this aha moment of everyone saying, oh, I get it now.
That doesn't happen. They're in every team meeting and everywhere you look, and what I can say is no matter what is reported, people act differently when cameras are around, and no matter how long they're there, there still is an effect. Highs are a little higher and lows are a little lower, and there's more drama and less work because it's more story.
After doing it — and I was the one that wanted it and agreed to it — I don't think it was beneficial to our team, how we played, how we progressed, and to our benefit. So speaking from firsthand experience, I'm not a fan. That doesn't mean others might be a fan, just after what I saw, and it was done really well. The return on investment didn't give the outcome I was thinking it would.
Q. Going back to Micah Kiser for a second. Andrew mentioned he's a guy who always has the assignment rest. We noticed his ability to blitz, to finish his plays. What stands out to you about his play?
COACH MENDENHALL: Micah is — a lot of times when you say a natural, Micah is a natural, but he's worked, and he's earned that, meaning that there's no one that studies film more obsessively, no one that is more of a master of the game currently on our team than he in his position. So the work he's put in allows him to be so much more anticipatory in nature, meaning he knows where plays are going. The screen play, if he's not there, that goes a long ways. But he is there because he knew where to be and what was coming. So those type of players seem faster and are so productive not by accident. They're there because of the preparation they're putting in.
So he's physically just amazing in terms of stamina, but what's allowing him to make the plays he's making is the time and investment and preparation he's putting in. He rarely is wrong. So when you have a player like that and Quin, those two, their production alone is so tilted in terms of the rest of our defense, but it's intentional. They are where they're supposed to be because of how mature and how slow the game is to them. It's slow because all the repetition they've already played before they played the game. They're amazing kids.
The game is slow. When the NFL people ask, which they always do, what kind of learner is he? They'll say something like is he a rep guy? Everyone is a rep person. It's really what you do with those repetitions and the game is slow, and you tell Micah one time, and he's got it. He's got it because he's prepared himself to where in the middle of the game you can say where did it go? Or I saw this. And he already knew, and it's comforting because the game is not too fast for him. If anything, he's faster than the game.
Q. I'm just curious, the way you played against Louisville, had you played against Richmond like that, are you a guy who believes you needed to lose that Richmond game to get to where you are now?
COACH MENDENHALL: I'm someone that believes the only way out is through, and that sounds cliche, but I believe it. I didn't know our team at the level that I needed to, and I didn't give them their best opportunity in game one, didn't give them their best opportunity in game two. After those two games, we made a significant change in our program, in our teaching and learning format, and really tried to basically get an extra game per week just in terms of repetition with the youth, but also youth slash inexperience slash immaturity, and how do we accelerate that? We're giving our team a better chance each and every week.
From where we are now, I don't recognize where we started. However, I have learned, and our team has learned. So I'm loving that process, and there's nothing easy about it, nor will there be going forward. But we're giving our team a better chance now than we did early to be able to reach their potential each game and each season.
Louisville was — showed clearer what direction we're going, but I think we could really look at the season and see growth in so many different areas. I wish I could say that I would have been more effective faster, but really I saw a significant change in the program adaptation after week two that has helped us. It doesn't mean we're perfect, but it's helped.
Q. Albert Reid has not been a big part of the passing game as a receiver. Did that play to your advantage on the two-point conversion because, if Smoke had been out in that spot, I'm guessing Louisville would have been very aware.
COACH MENDENHALL: That's a good point. I haven't thought of that, just whenever we want a critical play, I'm glad Albert is there. He's just that kind of player and that kind of person. I had nothing to do with the play call. Coach Anae did it exactly right, and, yeah, maybe that had an effect on how they defended it.
Louisville, like we did at times, looked really confused. The motion down, and the motion requires players to communicate, but when you motion a player down and there's multiple players there, that includes more communication has to happen, and they didn't get it done. So there was basically — there was an uncovered player. I watched them try to sort it out, and I've been in those shoes. The motion and the play design made it difficult on Louisville.
Q. I figure I can ask one recruiting question. Clearly, you can't talk about the actual recruits, but it seems like it's becoming a thing for guys who come on visits to ride horses. Is that an intentional thing for them to get to know you, and does that allow guys to see a different side of you away from the field, away from Xs and Os to get into something that is maybe more your personality?
COACH MENDENHALL: I think that — I'll give you the principle first. The 14 families that came, they came, they're my friends, and I like them, and I trust them. And the people that have come in this program, and I think the players recognize that, our current players, and I think they like being around us. I think there's a sense of optimism and belief that's fun for everybody. Independent of outcome, which is a great thing, just a great way to live.
So part of this is — I'm going to answer this in a very unique way, and you can take it where you want. My boys — Cutter, Breaker, and Raeder — my wife already has the strategy for, if one of them gets engaged and wants to be married, she already knows how she's going to give her approval. So she's from Montana, and there's the wilderness area, called the Bob Marshall wilderness area. It's really rugged, and there's grizzlies. So she won't let one of my boys get married unless their future spouse comes on a ten-day pack trip in the wilderness with us.
This will tie back to your question. This simply means we'll get to know them in every possible way. Yeah, maybe riding a horse with me for an hour isn't a ten-day pack trip in the back country, but I want to see who they are and who their families are, and probably they want to see who I am.
It's tough. I mean, after the game, I got in the truck and went home and saddled up. It's recruiting an hour after the game is over, but that's an authentic view of me, but it's also a great view of them. I make an investment in these kids and vice versa, where I'd like both sides to know what they're getting, and I don't want people I don't like. I don't want them to come if they don't like me. So might as well just show it and see it.
In a sense, we're getting married. True story. I mean, a commitment is taking on a different form now. When Holly said she'd marry me, I didn't have to ask if it was a soft commitment or a verbal commitment. A commitment is a commitment. I would like a similar context in this. If they say they're coming, I want to know I can trust them and vice versa.
Q. Did she make you go to Montana for ten days?
COACH MENDENHALL: I did go on a pack trip to Montana — maybe that's where she got it is from her folks. There's a unique story there, but she'll tell it if she wants to. I'm not going to tell it. They were hard on me.
Q. Can we go all access on one of those?
COACH MENDENHALL: No, you cannot go all access on one of those.
Q. You mentioned Quin, obviously, in your answer with Micah, but he's been back to practice now since week, I think. There's been a rise in production and a little more plays in the back end. Related to that at all?
COACH MENDENHALL: Yeah, his health and his practice — Louisville was the fastest he's played. So I looked at that game, and I just said, oh, that — I haven't seen that yet, and that was closing speed and burst. So he's healthier. He's been able to practice. Both of those things have helped. He was good before, even playing at about 70-ish or 80 percent up until our bye week. This past game was the fastest I'd seen him, and I hadn't seen fast from him yet. He was fast on game day.
Q. You said — I remember you said during the summer that redshirting was something that you looked at on the back end. You still have a fair number of first-year players who haven't played. Is there any debate as to, well, down the road an extra year would be preferable to two or three games now?
COACH MENDENHALL: Yeah, there's debate, but it has to be an earned debate, which means that I get class reports every day. I get human performance reports every day. I get reports from anyone that deals with these kids. Man, if they're not trying as hard as they can try and not getting glowing reports, then they're choosing they would like to be here four, rather than five. So I frame it like that to them regardless of what kind of player they might be.
I'm not talking about maturity. There are mistakes being made that are just youth mistakes. It's not that difficult to tell if their heart is really in it and if they're trying hard versus just doing something that's a mistake here and there. For those kids that are really, really invested and trying as hard as they can, there's a great chance they'll be with us for five. For those that aren't, then, man, a UVA education in four years as they graduate, that's still powerful.
But I love the principle of them declaring their path. Not having me impose it on them, I'm just giving them accountability for the path they're choosing. Their parents are notified along the way for successes and failures. So it's not some giant surprise. We're kind of in this together.