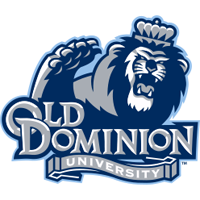 ODU football coach Bobby Wilder talks with reporters on Monday.
Good afternoon to all our 12th Monarchs out there in Monarch Nation! We are coming off a 31-21 victory over UTEP at home in what was a very tough, physical football game. Congratulations to Coach Kugler and his team; I thought both teams played a great game from start to finish. It was obvious both teams were aware of the implications of this game and opportunity for postseason play. This was a very physical game that started with our mindset from last week's practices. We had three of our four best practices of the year last week. The kids were really locked in and focused. We talked as a team about having a sense of urgency, and the kids have really responded to the challenge of getting to that six-win milestone.
This game didn't start well for us. UTEP started the way they left off the week prior against Rice, as they went right down the field with a 10 play, 71-yard drive for a touchdown and really controlled the clock. Fortunately, our offense responded with a 14-play, 86-yard drive to get us a field goal and cut it to 6-3. Then we created some adversity for ourselves on the squib kickoff, as we didn't stay in our lanes, and UTEP returned it for 61 yards. Vince Lowe made a touchdown saving tackle, and then our defense had a huge stop to force a field goal and keep the score at 9-3. They had first and goal at the two, so this defensive stand was the stop of the game. That gave us a lot of momentum.
Our defense played well the rest of the game after that. UTEP scored just before the half to make it 15-10, but then our offense responded with something we call "situational football," which in this case was that two-minute drill type offense that we practice a lot. We had all three timeouts left with 58 seconds in the half, and the biggest play came on third and 10 when David Washington checked down to Jeremy Cox who broke three tackles and gained 29 yards for us. Then Pascal made an outstanding catch on the touchdown pass while he was being interfered with to put us up 17-15 at the half. This was a field position game and the wind played a major factor, so taking the lead at halftime was big for us.
On special teams, this was an overall poor performance for us. We had a hard time punting against the wind, and we allowed that 61 yard kickoff return. Satchel hit a few nice punts with the wind and finished with eight punts for 41 yards. We also had some penalties on special teams that were very uncharacteristic of our team, so we will work on special teams in practice this week.
Defensively, the two interceptions by Misher were game-changing plays. The key to this game for us was holding UTEP to just 112 rushing yards. They ran for 57 yards in the first quarter and then only had 55 for the rest of the game. We were able to shut them down once we settled in and adjusted to what they were doing. Coach Nagy really mixed it up nicely, but it was hard for us to simulate their two-tight end sets in practice.
In the second half, seven of their eight drives were stops; we had five forced punts and two interceptions. This was our best half of football from a defensive standpoint this year. The guys are really starting to realize if they each just focus on their responsibility and assignment then we are going to productive. Davila had 10 tackles despite playing through a badly sprained ankle and is currently fifth in Conference USA for tackles. TJ Ricks, who is leading the league in tackles, had nine against UTEP, and Fellonte Misher had seven tackles and two interceptions.
Offensively, we had 441 yards and 31 points. The biggest statistic of all was that we had zero turnovers. David continues to do a great job handling the ball, and the guys are really securing the football. Washington is now 3-1 in the games he's played at quarterback. Our team is gaining a lot of confidence since Washington has taken over at quarterback. He went 26 for 42 for 291 yards and two touchdowns. Pascal had another huge game, as he made 12 catches for 145 yards and a touchdown. Jeremy Cox also had by far his best game as a true freshman, and we are gaining trust and confidence in his ability to pick up the blitz each game. He also ran the ball extremely well, as he rushed 15 times for 84 yards and had a long touchdown run. He also caught four passes for 70 yards.
This week's opponent, Southern Miss, is 7-3 overall and 5-1 in the league. They are first in the West and are on a roll as much as any team we've ever had to prepare to play. They've had four big wins in a row and are outscoring their opponents 44-11 in their last four games. They are 4-1 at home this year, and their only home loss came in their opener to Mississippi State.
Offensively, they are averaging 525 yards and 39 points. Their quarterback, Nick Mullens, is having a sensational year and would probably be the player of the year if it weren't for Brandon Doughty of Western Kentucky. He's thrown for 327 yards a game with 30 touchdowns and seven interceptions. Their two running backs, Richards and Smith, are good football players who complement each other well. They are combining for 160 yards per game.
Defensively, they are giving up 21 points per game and do a great job of creating a lot of havoc. They have 27 sacks, 70 tackles for loss and seven interceptions. Their defense plays with a lot of confidence. Their only losses were two close games to Mississippi State and Nebraska and then a 31-10 loss to Marshall in a game where they just did not play well. They are arguably the best team we've played this season based on how they have been playing lately. This will be a major challenge for us.
From an injury standpoint, we are as beat up as we've ever been in the history of our program. This game took a toll on us. We have 33 guys that are currently injured and 16 that are out. The other 17 will be spending as much time as they can in the training room this week. Ray Lawry will not play on Saturday, as he has a left mid-foot sprain and will be kept in a boot for 10 days. We will reevaluate him in the middle of next week. Even as well as he played with a 42 yard touchdown run, his foot was really bothering him throughout this game, and it is just too painful for him right now. Our offensive line is also really banged up. These kids keep battling through it, though, and as I told the team, nobody feels good right now since we are entering week 15.
Q: How do the injuries change the way practices will be held?
A: We will cut back on how long and physical practices are, which we usually do at this point in the year anyway. We are trying to be really conscious of the guys who have played a lot of snaps, and we keep track of those numbers. For example, Zach Pascal has played the most snaps of anyone with 750. Most of our high-rep guys wear a GPS unit so we can track their yardage during practice. We still need to practice because every week is like taking a new test. What Southern Miss does is completely different than what UTEP does. So the youth need to practice, we will just make it less physical.
Q: Are any other starters going to miss?
A: Not that I am aware of as of today. Today and tomorrow are the two most critical days for the guys in the training room. I anticipate everyone else will play. We should even have Darius Garcia back, who sat out last weekend. Chad Hendricks played the entire game at tackle in his place and did a great job, but we anticipate Garcia will be back inSaturday.
Q: Can you talk a little bit about your relationship with Coach Monken and the rebuilding job he's done at Southern Miss?
A: Todd and I have a good relationship. We touch base a few times every year during the season. He walked into an incredibly difficult situation for his first head coaching job. They were 12-2 two years before he got there, and then their head coach left, and they basically lost a recruiting class that year. Then under Ellis Johnson they went 0-12, and he got fired, so they lost another class. So by the time he got there, he was just doing the best he could with what he had. They went from getting blown out two years ago to keeping the scores a lot closer last year, and after taking their lumps these guys grew up and are really a veteran team now. It looks to me like they remembered all the teams that beat them and by how much over the last two years and are now exacting their revenge on them. Todd would be my vote for Coach of the Year right now, and you knew after how he did at Oklahoma State, especially on offense, that it was just a matter of time. What he's done with a team that has gone 4-20 the last two years is very impressive because it is hard to do that with a group of guys who have become used to losing. But right now, they look like a team on a mission.