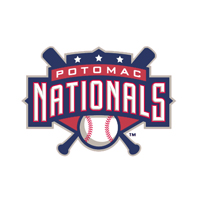 Nationals 3B John Wooten launched a three-run home run in the eighth inning of Thursday afternoon's contest to give the Potomac Nationals (64-49, 26-18) a 6-4 series sweep over the Winston-Salem Dash (54-62, 24-23). Dash LHP Carlos Rodon tossed three scoreless innings in his first professional start after being selected with the #3 overall pick in the 2014 MLB draft.
The Dash took three one-run leads in the game, and each time, Potomac rallied to tie the game and eventually take the lead for good. DH Jason Coats started the scoring in the first inning off Nats' RHP Ian Dickson with an RBI-groundout. In the fourth inning, Winston-Salem had the opportunity to grab a two-run lead on a lazy sacrifice fly. On the appeal after the play, 1B Keon Barnum was called out for leaving third base early, resulting in an inning-ending double play.
The P-Nats tied the game in the bottom of the fourth with a 2B Khayyan Norfork single scoring DH Shawn Pleffner. RHP Terance Marin (L, 3-3) allowed the run and took the loss for the Dash in four-plus innings of relief work.
C Omar Narvaez's sacrifice fly gave the Dash the lead in the sixth, but Potomac came right back to tie it with an 1B Estarlin Martinez RBI-double in the seventh. Winston-Salem recaptured the lead in the eighth off LHP Kylin Turnbull (W, 1-3) with Barnum's RBI-single scoring LF Courtney Hawkins.
In the bottom of the eighth, three consecutive singles preceded the Wooten home run as part of a four-run frame. RHP Gilberto Mendez (Sv, 9) allowed a run in the ninth, but got Hawkins to fly out as the tying run to shut the door for the save.
The Potomac Nationals Baseball Network, which is accessible at www.potomacnationals.com, will broadcast the first game of a three game series at Salem on Friday, August 8th. Broadcast coverage will begin with the P-Nats Leadoff Show at 6:50pm in preparation for the 7:05pm start. Potomac will send LHP Hector Silvestre (1-0, 3.55) to the mound while the Red Sox starter is TBA.