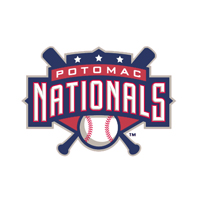 The Potomac Nationals (28-26, 14-11) knocked home seven runs in a wild seventh inning to defeat the Salem Red Sox (27-27, 13-13) at Pfitzner Stadium by the score of 8-1 on Saturday night.
Washington Nationals LF Ryan Zimmerman played five innings in the outfield for the first time in his professional career. Zimmerman went 1-3 at the plate with a single off the glove of Red Sox 2B Reed Gragnani. Zimmerman's outing in left field was bland considering he had just one ball hit to him in his five innings. On the ball cranked to the gap in left-center field by Salem C Leonel Escobar, Zimmerman raced it down after taking one step away from the alleyway. Zimmerman is expected to be back in the left field Sunday afternoon in a 1:05pm start for seven innings.
P-Nats starter RHP Dakota Bacus tossed a solid 5.2 innings allowing a solitary unearned run while striking out four. Bacus surrendered five hits and walked twice. Nationals RHP Gilberto Mendez (2-2) relieved Bacus for 2.1 scoreless innings to garner the win. Mendez allowed one hit, walked one batter, and fanned a single hitter.
Each team plated a run early before the rest of the scoring in the 7th inning. Potomac 1B Shawn Pleffner and Red Sox 1B Tim Roberson each led off the fourth and fifth innings respectively with doubles. Pleffner scored on a single from3B Khayyan Norfork. Roberson came around after a SS Stephen Perez error.
The other seven runs were all tallied in the 7th for Potomac. The P-Nats sent 11 hitters to the plate in the inning, which saw everything from batter's interference on a bunt attempt by C Pedro Severino to Norfork reaching on a dropped third strike wild pitch. Perez supplied a two-run single scoring Norfork and CF Will Piwnica-Worms. Pleffner and RF Randolph Oduber each poured on RBI-knocks as well. Salem committed three errors in the inning, resulting in only two of the seven runs counting as earned against the eventual losing pitcher, RHP Justin Haley (L, 4-2).
Nationals RHP Travis Henke threw a scoreless ninth to lock up the win after giving up just one base hit.
Sunday afternoon's 1:05pm series Game Three confrontation will pit Nationals RHP Ian Dickson (1-4, 6.55) against Red Sox RHP Luis Diaz (5-3, 3.42).
Kids Eat Free Sundays sponsored by: Little Caesars Team Dumfries & Haymarket where kids 12 and under receive a free slice of Little Caesars pizza will be upon us tomorrow. In addition, Celebrate America Family Day presented by: Macy's will grace The Pfitz. Kids will run the bases after the game tomorrow courtesy of Glory Days Grill.