Augusta Free Press editor Chris Graham is live at Scott Stadium in Charlottesville for today's ACC football matchup between UVa. and Virginia Tech.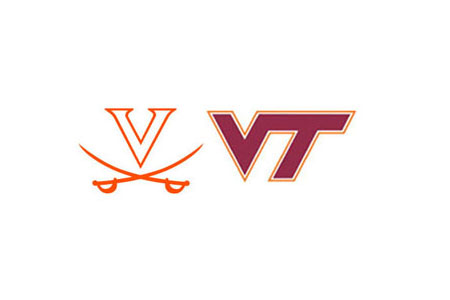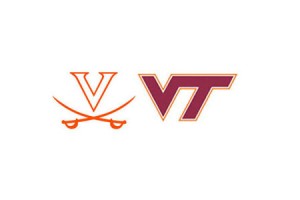 Virginia Tech (7-4, 4-3 ACC) enters the game with a nine-game winning streak agaiust their in-state rival. Virginia (2-9, 0-7 ACC) has lost eight straight in 2013 and is wrapping its sixth losing season in its last eight, including its third in four season under coach Mike London.
Game time is 3:30 p.m. The game is being broadcast on ESPNU and ESPN3.
Game Notes
Virginia-Virginia Tech Rivalry
• Virginia Tech leads the all-time series 52-37-5 and has won 13 of the last 14 meetings, including nine straight. Tech has also taken 16 of the teams' last 20 meetings.
• The series began in 1895 with UVa gaining a 38-0 win in Charlottesville.
• UVa's most recent victory in the series was a 35-21 win at home in 2003.
• The Hokies (94 games) are UVa's second-most frequent opponent – UVa has played North Carolina 118 times.
Commonwealth Cup Up for Grabs
• The winner of this game claims the Commonwealth Cup for the next year.
• After holding the trophy following wins in 1997 and 1998, the Cavaliers have taken it just once since then (2003) with the Hokies winning 13 of the last 14 meetings.
• The award was started for the 1996 game between the two state foes, with the Hokies receiving the trophy for the first time with a 26-9 win.
• The Cup is made of marble and cherry wood, stands four feet high and weighs more than 100 pounds.
• The scores of all 94 games in the rivalry are engraved on the sides of the trophy.
Pregame
No ACC Championship Game implications: Duke's 27-25 win at North Carolina puts the Blue Devils in the ACC Championship Game. The Hokies have been eliminated.
Pregame greetings for the two teams: It's about 60-40 Virginia fans.
First Quarter
Quick strike: Virginia Tech gets a 22-yard field goal from Erik Kristensen at 9:45 in the first quarter. Virginia defense holds on six plays inside the 10. Virginia Tech 3, UVa. 0.
Solid defensive stand: For the first five plays of that drive, the UVa. defense was a sieve. Then inside the 10, it suddenly stiffened.
Virginia looks befuddled on offense: On their first effort at third down, they lined up in an illegal formation, which was offset by a holding call on Virginia Tech. On their second effort, David Watford had to call timeout because he tried to change the play at the line and ran out of time.
Virginia responds: Alec Vozenilek good from 36 yards. Game tied at 3-3, 6:14.
Virginia defense holds again in the red zone: Another Eric Kristensen field goal makes it 6-3 Virginia Tech at the 2:59 mark.
Tech offense looks dominant: Get through those red zone issues, and this could be a big day for the Hokie O.
End 1: Virginia Tech 6, Virginia 3. VT: 130 yards total offense. UVa. 106 yards total offense.
Second Quarter
Virginia flirts with disaster: Indecision on whether to go for fourth-and-one almost leads to a delay-of-game penalty. Alec Vozenilek connects from 30 yards. Game tied at 6-6, 12:05.
First defensive stop of the game: Tech goes three-and-out after scoring on its first two drives.
Third-down call from the VT 34 makes no sense: Virginja Tech was in Cover 4. Watford tried to throw over the top. Underneath was there. Need to check down.
Third field goal for VT: Erik Kristensen's knuckleball makes it through the uprights from 38. Virginia Tech 9, Virginia 6, 2:41.
Hot from deep: Teams are a combined 5-for-5 from three-point range. Wait, wrong sport to brag about three-pointers.
Wow. Tech recovers onside kick. Ballsy call.
Sack/strip: Logan Thomas fumbles, Virginia recovers at the Tech 34.
Failure to convert: Virginia turns it over on downs. Four plays, negative-one yards. Not sure of anything on that series in terms of play-calling. First down was a run between the guards, second down an out pass that Watford overthrew, third down a rolling pocket that Watford dramatically underthrew, fourth down a pass into the end zone that Watford dramatically overthrew.
Tech touchdown: Logan Thomas connects over the middle with Trey Edmunds on a 26-yard catch-and-run TD. Virginia Tech 16, Virginia 6, :21 left. Tech converts third-and-10 into TD.
Taking advantage of opportunities: Virginia gets a fumble in Tech territory and can't move it. Tech gets the ball after the turnover on downs and moves down the field.
First half stats: Virginia Tech 253 total yards. Virginia 165 total yards. Logan Thomas: 10-22, 205 yards, 1 TD. David Watford: 8-16, 101 yards. Kevin Parks: 9 carries, 31 yards.
Different approaches: Virginia Tech's first play after the onside kick was a pass into the end zone that would have been a TD if not for the pass interference. Virginia's first play after the Tech fumble was a run into the butt of the center. Tech goes for the jugular; Virginia goes for a safe play that ultimately produces nothing.
Third Quarter
Crunch time already for Virginia: UVa. clearly needs to score on the opening drive of the second half. Or this is on the verge of being over.
Official attendance: 52,069
Instead: A first down, then a punt.
Virginia interception in the red zone: DreQuan Hoskey with his first career INT. At the UVa. 9.
Turnovers: Virginia Tech 2, UVa. 0. Points off turnovers: Virginia Tech 0, UVa. 0.
Lambert in(effective): Greyson Lambert gets his first series of the game. An 0-for-3 three-and-out.
End 3: Virginia Tech 16, Virginia 3. Stats: Virginia Tech 329 yards total offense, Virginia 213 yards.
Fourth Quarter
Virginia Tech starts at the UVa. 38. Obviously, a Tech TD puts this game on ice. Big series.
Virginia holds: This one is still a ballgame.
Totally offensive: Virginia had 106 yards of offense in the first quarter. And has 114 yards combined offense since.
Backs against the wall: Virginia needs two scores, and starts its drive with 8:17 to go at its own 7.
Kendall Fuller INT probably seals it: Greyson Lambert way off target after after a Parks' 48-yard run gets Virginia into VT territory.
Final: Virginia Tech 16-6