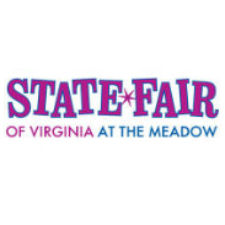 Chips will fly as the saw roars, and in record time an ordinary log will be transformed into a masterpiece. Ben Risney of Masters of the Chainsaw, a popular State Fair of Virginia attraction, will effortlessly turn logs into unique replicas of bears, penguins, flowers, lighthouses or whatever fires up his imagination.
Risney's skills will be on display several times each day for the fair's entire 10-day run. His artwork will be auctioned on the second Saturday of the fair, with proceeds benefitting the State Fair of Virginia Scholarship Program.
Last year Risney's butterflies, elephant, fish, heron, horse, turkey and other statues generated more than $14,000 for the fund. He even crafted a life-size golden retriever modeled after Jesse, SFVA President Jeff Dillon's dog. Dillon was the winning bidder for the dog sculpture.
Risney will work in the fair's Harvest Landing area, not far from family favorite Young MacDonald's Farm. Masters of the Chainsaw was established in 1992 and boasts some of the nation's top professional chain saw sculptors. Members are dedicated to promoting and preserving the integrity of their art form.
The organization started with only five members; today there are 13 exclusive members and 36 part-time members. The agency has placed more than 60 carvers at nearly 1,200 events in almost every state in the United States, as well as in Canada and Japan. It also has organized and operated 16 chain saw carving competitions.
Masters of the Chainsaw is just one of dozens of attractions included in the price of a state fair admission ticket. Another perennial favorite coming back this year is Rosaire's Royal Racers racing pigs, presented by Call Federal Credit Union. Fairgoers will be able to root for their favorite pigs during four shows each weekday and five shows daily on weekends.
"Call Federal is pleased to partner with the State Fair to bring back Rosaire's Royal Racers. The racing pigs are just plain fun," said CEO and President Roger Ball. "We can't wait to share this experience with fairgoers and see the smiles it will bring. This provides a great teaching opportunity, too. We'll be at the fair with our ever-popular piggy banks to share with kids the importance of saving."
The 2014 State Fair of Virginia will open Sept. 26 and run through Oct. 5. Information is available at StateFairVa.org.
The State Fair is held each fall at its permanent home at The Meadow Event Park in Caroline County. The fair's mission is to increase agricultural and natural resource awareness and interest through educational programs, exhibitions and competitions in a fun, family-friendly setting.