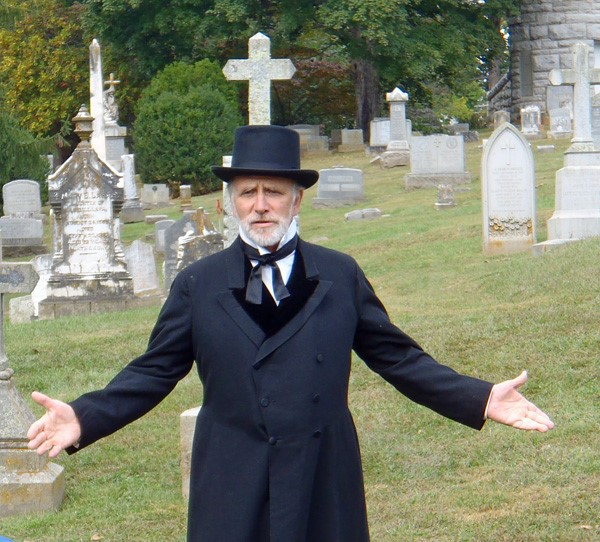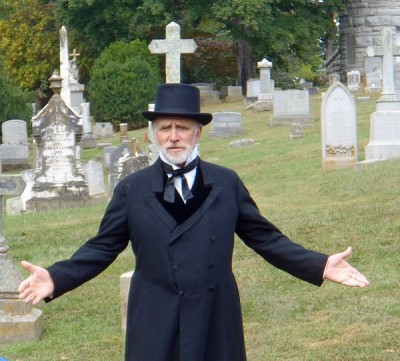 On Saturday and Sunday, Sept. 26-27, the Augusta County Historical Society will sponsor "Conversations from the Grave," a unique guided tour that takes visitors back in time through Staunton's most beautiful final resting place, Thornrose Cemetery.
There are multiple tours both Saturday and Sunday.  Tickets include refreshments and cost $20 – and must be purchased in advance.  For information and tickets, call the ACHS office at 540-248-4151 or e-mail: [email protected].
The tour highlights the fascinating history, architecture, and historical figures who are buried at Thornrose. It begins with a brief history of the cemetery, describing how it began as a simple graveyard on the edge of town, and later, thanks to the vision of one early Stauntonian, was transformed into a charming park-like area characterized by lush landscaping and the medieval fantasy architecture created by noted local architect T.J. Collins.
But "Conversations from the Grave" is more than just a graveyard tour. Along the way, guides introduce visitors to some of Thornrose's most prominent "residents," brought "back to life" for a brief time to share their personal stories, achievements, heartbreaks, and perhaps a few scandalous pasts.
Participants will encounter Denis Shanahan, a first generation Irish immigrant whose largely self-taught engineering skills brought him recognition as a keen problem solver during construction of the Blue Ridge Tunnel and other tunnels throughout the Albemarle County region. They will visit Captain John Newport Greene, a Staunton native who became the first soldier in World War I to be honored with the two most distinguished medals from the United States and French governments; and Arista Hoge whose decades-long board affiliation with the Thornrose Cemetery Company created the beautiful architectural landscapes and tree-shaded grounds that still characterize the cemetery more than a century later.
Visitors might also meet Evelyn Byrd Lee DuLaney, a female spy for the Confederacy whose daring escapades may have caused her to eventually lose her mind; or Shelley Isabel Mann, who battled polio to eventually win a gold medal in swimming during the 1956 Olympics in Melbourne, Australia.
The Rev. Abel McIver Fraser, minister at First Presbyterian Church in Staunton, will be on hand to talk about his 36-year career here as both a gifted spiritual and civic leader. He will receive a special introduction from a long-time friend, President Woodrow Wilson. These and other Thornrose residents will return briefly to offer amazing glimpses into their lives when they still walked among the living.
Refreshments served following each tour.
The tour is a rare opportunity to experience a "grave" encounter in Staunton's beautiful and historic Thornrose Cemetery.  The tour has been conducted many times over the years and tickets usually sell out quickly. Tickets must be purchased prior to September 26.  Tours are limited to 25 per group.
Event Info:
Cost: $20 (includes refreshments)
Tour times: Saturday, September 26: 10:00 am, 10:30 am, 11:00 am, 11:30, and 1:00 pm.  Sunday, September 27: 1:30 pm, 2:00 pm, and 2:30 pm.
For information and tickets, call the ACHS office at 540-248-4151 or e-mail:

[email protected]

.  Tickets must be purchased ahead of time.  Indicate desired tour time.  Tickets will be mailed to you and are only good for the date and time specified.
Thornrose Cemetery has steep, hilly terrain.  Wear comfortable walking shoes.
You may park inside the cemetery, along the drives, but do not block the roads.
Tour groups meet at the gatehouse facing West Beverley and Henry Funeral Home.
Tours take place rain or shine.  No refunds for wet weather.