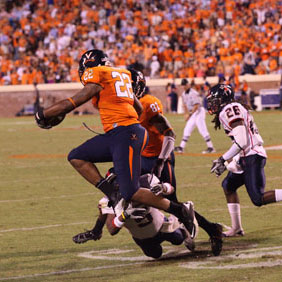 Virginia running back Keith Payne has been invited to the NFL Players Association Game, formally known as the Texas vs. The Nation All-Star game.
In addition to a new name, the game has moved from the Sun Bowl in El Paso, Texas to the Alamo Dome in San Antonio. The premise of the game remains the same, collegiate players from Texas schools, or those who hail from the state, square off against players from all over the nation. Payne will represent The Nation team. Kickoff is at 1:00 pm CST on February 5, 2011 in San Antonio's Alamodome.
"Out of the five rosters we've put together, this is probably our best top to bottom," said John Murphy, the player personnel director of the NFL Players Association Game. "At this point, it looks like this is the highest number of players we've ever had on our roster that will receive invitations to the NFL Combine in late February."
Payne, a senior, concluded his collegiate career leading the ACC in scoring at 8.7 points per game with a league-best 16 total touchdowns in 2010. His 14 rushing scores is a mark that is No. 3 all-time in the UVa annals and second-most since the end of World War II. The All-ACC second-team performer led UVa with 749 rushing yards and a 68.1 yards per average, while splitting carries with Perry Jones.
Former Houston Oiler and Atlanta Falcons head coach Jerry Glanville will coach Team Nation against former Dallas Cowboy Bill Bates for Team Texas. UTSA head football coach Larry Coker will assist Bates with Team Texas.
Over 400 players who have played in the NFL Players Association Game have gone on to sign NFL contracts over the game's four-year history, including UVa's Will Barker, who appeared in last year's game for The Nation squad. Barker made his NFL debut this past season with the Tampa Bay Buccaneers.