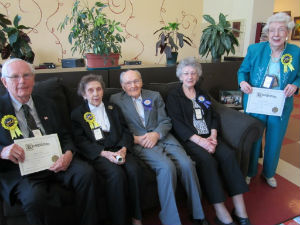 Older Americans Month activities held at the Staunton Senior Center last week were found to be both fun and successful. Activities ranged from the reading of humorous stories focusing on light-hearted aging and special recognition of ten wonderful members who have attained the ninety and above age status.
Members performed quite well on the group crossword puzzle, and the Open House was very lovely with sandwiches donated by Anna Stell of Intrepid Health Care Services and a veggie tray brought in by Brittney Shetter of Team Nurse. The stringed performance by Quail Hill Quartet was exquisite, and the four musical siblings captured the hearts of members and staff alike!
Three members and the SSC Program Director were fortunate to be able to attend the Ms. Virginia Senior America Pageant upstairs in the nTelos Theatre with complementary tickets from the Pageant. Two local contestants were recognized at the end of the event, one as second runner-up and one as Ms. Congeniality! What an exciting way to end a week full of celebrating the wonders of all older adults!
More online at www.StauntonSeniorCenter.org.