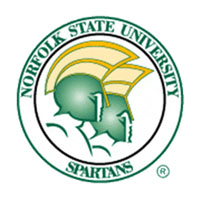 Norfolk State overcame a late 10-point deficit and pushed ahead in the last few minutes in a 74-68 win over Stony Brook in men's basketball action on Saturday night at Island Federal Credit Union Arena.
In their last non-conference game before beginning MEAC play, the Spartans trailed 55-45 with nine minutes left in the game. But an 11-0 run put them ahead, the first of five lead changes in a little more than two minutes of action.
Sophomore Steven Whitley hit a 3-pointer to give the Spartans the lead for good, and senior Kyle Williams had a trey and a pair of free throws to extend the advantage with less than two minutes to go.
Stony Brook could not convert late, shooting just 26 percent overall in the second half and going cold from 3-point range after a strong first half.
NSU, meanwhile, improved to 2-12 overall thanks to 21 points from Williams on 5-of-9 shooting, 4-of-6 from deep. Whitley hit 7-of-13 from the floor for 18 points with seven rebounds and four steals.
Stony Brook (5-9) got 24 points from Akwasi Yeboah, 21 of those in the first half. But thanks to the Seawolves' cold second half, NSU outscored them 40-29 after the break.
A 7-of-16 effort from the 3-point line in the first half propelled Stony Brook early on. It allowed them to eventually take a 39-34 lead into the locker room.
Sophomore Nic Thomas knocked down a trey early in the second half to trim the deficit to two. The Seawolves scored the next seven, and Yeboah finally got on the board in the second half with a pair of free throw at the 9:01 mark. That made it 55-45, the first and only double-digit lead of the game for either team.
Williams had two 3-pointers during the 11-0 run for a 56-55 edge with five minutes to go. After the teams traded some free throws, Jaron Cornish knocked down a trey for Stony Brook before Whitley's shot from the top of the key put the Spartans ahead 62-60 with just 2:48 left.
Williams knocked down his trey and then two free throws for a 69-62 lead with 1:02 left, and the Spartans held on from there despite missing several free throws in the last minute.
The Spartans finished the game 9-of-19 from beyond the arc and 50 percent overall on 26-of-52 shooting. The Seawolves finished 20-of-57 (35.1 percent), including 10-of-33 from 3-point land.
Stony Brook fell despite holding a 44-34 edge on the glass, 19-8 on the offensive side. A total of 17 giveaways did the Seawolves in, with NSU outscoring them 18-7 in points off turnovers.
Early in the game, Williams hit a couple of long shots to help NSU build an 11-5 lead. Thomas completed a short 7-2 run a little later on a drive to the bucket to open an eight-point advantage, 22-14, with eight and a half minutes before the half.
After Thomas drained a 3-pointer for a nine-point lead, Yeboah really started to heat up for Stony Brook. That included a 4-point play and then later another trey with 1:36 left. In fact, he scored seven of the last eight points in the half. Stony Brook closed it on that 8-0 run, part of a larger 20-6 spurt that began after Thomas' trey at 6:15.
Aside from Yeboah, Cornish was the only other player in double figures for Stony Brook with 12.
Thomas and senior Bryan Gellineau each had 11 points, a career high for Gellineau as well.
NSU next opens MEAC play on Wednesday at home when the Spartans host Coppin State at 8 p.m.