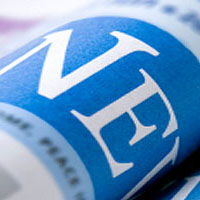 Award-winning musicians Melissa Cox and Mythica will bring their fresh perspective on Celtic and World music to the Crossroads Music and Food Festival at Vanguard Ranch (3427 Valentine Mill Road) in Gordonsville on Saturday, October 3. Tickets are $20 (under 12 free) at the door.
The festival, which starts at 2pm and ends at 8pm, will feature three diverse musical acts, craft beer, and local food. Attendees are welcome to bring lawn chairs and blankets. No smoking and no pets allowed.
Melissa Cox, the lead singer of Mythica, and her husband Matt Smith, the band's bass player, will reunite with fiddler Erin Flynn from Washington D.C. at the festival. Cox and Smith emigrated from the United States to New Zealand in 2013, and are making the journey back to the USA after two years of living abroad to reunite on a homecoming tour.
Mythica blends Irish, Scottish and World influences with folk, rock, and alternative styles with instruments like the violin, hammered dulcimer, mandolin, guitar, bass, hand percussion, and tight vocal harmonies. Hailed as sounding like "a cross between Jefferson Airplane's Grace Slick and Loreena McKennitt" by Sing Out! Magazine, lead singer Cox was voted Best Singer/Songwriter by Delaware's Spark Magazine, and Best Celtic Fusion Singer by Celtic MP3 Music Magazine.
Mythica and its members have toured extensively across the United States, Hawaii, and New Zealand, appearing at dozens of Celtic festivals and premiere venues. They have shared the stage with the Spin Doctors, Sister Hazel, Three Dog Night, the Screaming Orphans, Celtic Crossroads, and more.
More information about the festival at www.xroadsmff.com. More information about Mythica and Melissa Cox at www.MythicaMusic.com.