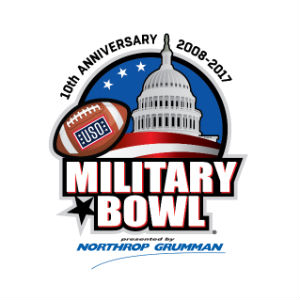 Joe Reed returned the opening kickoff for a touchdown. That was the highlight for Virginia in a 49-7 defeat to Navy in the 2017 Military Bowl on Thursday in Annapolis. Md.
The loss for the 'Hoos (6-7) was the sixth in their last seven games after a promising 5-1 start.
The problems that affected UVA in the second half of the 2017 regular season persisted into the postseason. The Cavs offense could not generate anything on the ground, running for just 30 yards on 18 attempts, on the heels of averaging 67.8 yards per game and 2.6 yards per carry in their last six coming in.
The inability to get a running game going made it harder for senior quarterback Kurt Benkert to get untracked. Benkert finished 16-of-36 passing for 145 yards with a second-quarter interception.
Navy (7-6) had, like Virginia, come into the bowl game reeling, having lost six of seven after a 5-0 start, but the Midshipmen took control after the Reed kickoff return, a 98-yard score that briefly energized a loud UVA fan contingent.
Touchdown runs by quarterbacks Zach Abey and Malcolm Perry put Navy up 14-7 at the end of the first quarter, and each scored TDs in the second to extend the lead to 28-7 at halftime.
The Virginia defense stopped the Middies on their first series of the third quarter, but Daniel Hamm muffed the punt, setting up a quick 11-yard scoring drive, capped by another Abey touchdown, that pushed the lead to 35-7, and began the long endgame from there.
Abey finished with a Military Bowl-record five touchdowns on the day. Perry ran for 114 yards on 16 carries before leaving early in the third quarter with an injury.